U.S. and Latin American Relations, 2nd Edition
ISBN: 978-1-118-91252-2
344 pages
August 2015, Wiley-Blackwell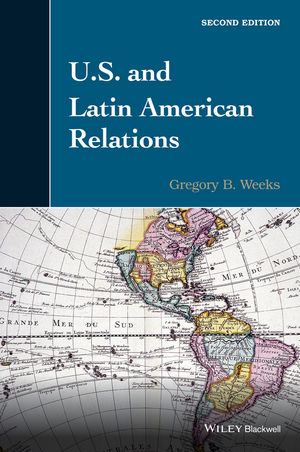 Featuring numerous updates and revisions, 
U.S. and Latin American Relations, 2nd Edition
 offers in-depth theoretical and historical analyses to explore the complex dynamic between the United States and the countries that comprise Latin America.
Presents a theoretical framework that allows readers to view U.S.-Latin American relations from both a regional and global context
Reviews the history of U.S.-Latin American relations from the 19th century to the present, including in-depth coverage of the ways political events in Cuba have shaped policy
Examines former issues of conflict that are now areas of cooperation, such as debt and trade, immigration, human rights, illegal drugs, and terrorism
Incorporates primary documents to place issues within historical context
See More
Preface vi
Acknowledgments ix
1 The Theoretical Context of U.S.–Latin American Relations 1
2 The Roots of U.S. and Latin American Relations 14
3 The Rise of U.S. Hegemony 42
4 The Era of Intervention and the Good Neighbor 69
5 The Early Cold War Period 97
6 The Cuban Revolution 124
7 The Communist Threat and U.S. Intervention 148
8 Free Trade and Neoliberal Reform 177
9 C hallenges to U.S. Hegemony 207
10 Latin American Immigration and U.S. Policy 232
11 Human Rights and Democracy 258
12 Drug Trafficking and Terrorism 284
Glossary 309
Bibliography 312
Index 327
See More
Gregory Weeks is Professor and Chair of the Department of Political Science and Public Administration at the University of North Carolina at Charlotte. His books include The Military and Politics in Postauthoritarian Chile (2003), and Understanding Latin American Politics (2014).
See More