E-book
The Carpenter: A Story About the Greatest Success Strategies of All
ISBN: 978-1-118-91525-7
160 pages
May 2014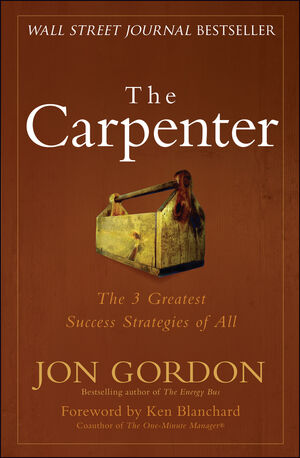 Bestselling author Jon Gordon returns with his most inspiring book yet—filled with powerful lessons and the greatest success strategies of all.
Michael wakes up in the hospital with a bandage on his head and fear in his heart. The stress of building a growing business, with his wife Sarah, caused him to collapse while on a morning jog. When Michael finds out the man who saved his life is a Carpenter he visits him and quickly learns that he is more than just a Carpenter; he is also a builder of lives, careers, people, and teams.
As the Carpenter shares his wisdom, Michael attempts to save his business in the face of adversity, rejection, fear, and failure. Along the way he learns that there's no such thing as an overnight success but there are timeless principles to help you stand out, excel, and make an impact on people and the world.
Drawing upon his work with countless leaders, sales people, professional and college sports teams, non-profit organizations and schools, Jon Gordon shares an entertaining and enlightening story that will inspire you to build a better life, career, and team with the greatest success strategies of all.
If you are ready to create your masterpiece, read The Carpenter and begin the building process today.
See More
Foreword by Ken Blanchard ix
Acknowledgments xi
1 Collapse 1
2 Rest 5
3 The Carpenter 9
4 Stressed 15
5 Busy 17
6 Design Your Masterpiece 19
7 Be a Craftsman 25
8 You Will Know 29
9 Everybody Loves the Carpenter 33
10 Believe 37
11 Talk to Yourself instead of Listening
to Yourself 41
12 Sarah 45
13 Chaos 49
14 The Greatest Success Strategy of All 53
15 Love Is a Commitment 59
16 People > Furniture 63
17 The Second Greatest Success Strategy of All 67
18 The Sandwich 75
19 The Third Greatest Success Strategy of All 77
20 Love, Serve, Care 83
21 Value 85
22 The Heart of Success 87
23 Failing 91
24 Success Takes Time 93
25 The Gift of Failure 95
26 Unfinished Work 99
27 Courage 101
28 A Glimmer of Hope 105
29 Be the Mission 109
30 All for One 113
31 Progress 117
32 Everything Is Spiritual 121
33 Creating the Impossible 125
34 Build 129
35 Success Is Meant to Be Shared 131
Tools for Success 135
Bring the Greatest Success Strategies to Your Team and Organization 137
Other Books by Jon Gordon 139
See More
Jon Gordon's bestselling books and talks have inspired readers and audiences around the world. His principles have been put to the test by numerous NFL, NBA, and college coaches and teams, Fortune 500 companies, school districts, hospitals and non-profits. He is the author of The Wall Street Journal bestseller The Energy Bus, The No Complaining Rule, Training Camp, The Shark and The Goldfish, Soup, The Positive Dog, The Seed, The Carpenter, and his latest book The Hard Hat.
See More