BioShock and Philosophy: Irrational Game, Rational Book
ISBN: 978-1-118-91586-8
192 pages
June 2015, Wiley-Blackwell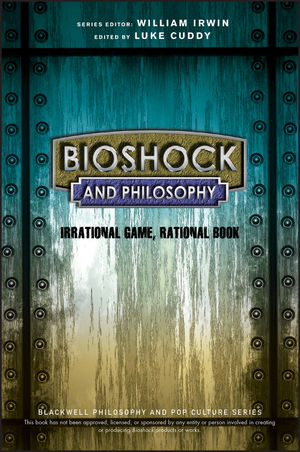 Considered a sign of the 'coming of age' of video games as an artistic medium, the award-winning BioShock franchise covers vast philosophical ground.
BioShock and Philosophy: Irrational Game, Rational Book 
presents expert reflections by philosophers (and Bioshock connoisseurs) on this critically acclaimed and immersive fan-favorite.
Reveals the philosophical questions raised through the artistic complexity, compelling characters and absorbing plots of this ground-breaking first-person shooter (FPS)
Explores what BioShock teaches the gamer about gaming, and the aesthetics of video game storytelling
Addresses a wide array of topics including Marxism, propaganda, human enhancement technologies, political decision-making, free will, morality, feminism, transworld individuality, and vending machines in the dystopian society of Rapture
Considers visionary game developer Ken Levine's depiction of Ayn Rand's philosophy, as well as the theories of Aristotle, de Beauvoir, Dewey, Leibniz, Marx, Plato, and others from the Hall of Philosophical Heroes
See More
Hacking into This Book (Introduction) vii
Luke Cuddy
Part I Level 1 Research Bonus: Increased Wisdom Capacity 1

1 BioShock's Meta ]Narrative: What BioShock Teaches the Gamer about Gaming 3
Collin Pointon
2 The Value of Art in BioShock: Ayn Rand, Emotion, and Choice 15
Jason Rose
3 SHODAN vs. the Many: Or, Mind vs. the Body 27
Robert M. Mentyka
4 "The cage is somber": A Feminist Understanding of Elizabeth 38
Catlyn Origitano
Part II Tears, Time, and Reality 49
5 Rapture in a Physical World: Did Andrew Ryan Choose the Impossible? 51
James Cook
6 Would You Kindly Bring Us the Girl and Wipe Away the Debt: Free Will and Moral Responsibility in BioShock Infinite 58
Oliver Laas
7 BioShock as Plato's Cave 69
Roger Travis
8 BioShock Infinite and Transworld Individuality: Identity across Space and Time 76
Charles Joshua Horn
9 Shockingly Limited: Escaping Columbia's God of Necessity 86
Scott Squires and James McBain
Part III The "Union" and the Sodom Below 95
10 "The bindings are there as a safeguard": Sovereignty and Political Decisions in BioShock Infinite 97
Rick Elmore
11 Propaganda, Lies, and Bullshit in BioShock's Rapture 107
Rachel McKinnon
12 The Vox Populi Group, Marx, and Equal Rights for All 114
Tyler DeHaven and Chris Hendrickson
Part IV The Circus of Values 127
13 Infinite Lighthouses, Infinite Stories: BioShock and the Aesthetics of Video Game Storytelling 129
László Kajtár
14 Have You Ever Been to Rapture?: BioShock as an Introduction to Phenomenology 139
Stefan Schevelier
15 "Evolve today!": Human Enhancement Technologies in the BioShock Universe 150
Simon Ledder
16 Vending Machine Values: Buying Beauty and Morality in BioShock 161
Michael J. Muniz
Notes on Contributors 168
Index 173
See More
Luke Cuddy is an Assistant Professor of Philosophy at Southwestern College in Chula Vista, CA. He edited The Legend of Zelda and Philosophy, World of Warcraft and Philosophy, and HALO and Philosophy. An avid guitar player as well as gamer, he continues to annoy his friends with impromptu performances of "Will the Circle Be Unbroken".

William Irwin (series editor) is Professor of Philosophy at King's College, USA. He originated the philosophy and popular culture genre of books as co-editor of the bestselling The Simpsons and Philosophy and has overseen titles including House and Philosophy, Batman and Philosophy, and Veronica Mars and Philosophy.
See More
More in this series