E-book
Samsung Galaxy S5 For Dummies
ISBN: 978-1-118-92027-5
352 pages
May 2014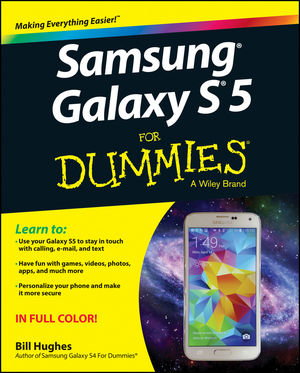 Explore Samsung's next generation Galaxy smartphone
Do you want an easy-to-follow guide to everything your new Galaxy S5 smartphone can do? From the basics of texting and accessing the Internet to the most advanced features and new software apps, Samsung Galaxy S5 For Dummies makes the need for tech support obsolete. The Galaxy S5 is designed to be faster and more powerful than ever. This latest release in the market-leading line of smartphones is full of new features for you to explore with the help of Samsung Galaxy S5 For Dummies.
With over 1 million apps available for the Google Android operating system, there's almost nothing you can't do with the Samsung Galaxy S5. This book will guide you through finding and installing the applications that work best for you and getting the most out of your device.
Includes information on setup and configuration, the new camera features, video, GPS navigation, and media
Find out how to sync the Galaxy S5
Discover tips and tricks to unlock your smartphone's full potential
Samsung Galaxy S5 For Dummies is the lively, informative guide you'll want to keep handy. Whether you're new to the world of mobile devices, or consider yourself a more experienced user, this book and covers all the Galaxy S5 capabilities and features.
See More
Introduction 1
Part I: Getting Started with the Samsung Galaxy S 5 7
Chapter 1: Exploring What You Can Do with Your Phone 9
Chapter 2: Beginning at the Beginning 21
Part II: Communications 49
Chapter 3: Calling People 51
Chapter 4: Discovering the Joy of Text 63
Chapter 5: Sending and Receiving E-Mail 73
Chapter 6: Managing Your Contacts 93
Part III: Live on the Internet: Going Mobile 111
Chapter 7: You've Got the Whole (Web) World in Your Hands 113
Chapter 8: Playing in Google's Play Store 127
Part IV: Entertainment Applications 149
Chapter 9: Sharing Pictures 151
Chapter 10: Playing Games 173
Chapter 11: Mapping Out Where You Want to Be 183
Chapter 12: Playing Music and Videos 195
Part V: Productivity Applications 229
Chapter 13: Using the Calendar 231
Chapter 14: On the Road Again: Taking Your Work with You on Your Phone 243
Chapter 15: Talking with S-Voice 255
Part VI: The Part of Tens 265
Chapter 16: Ten (or So) Ways to Make Your Phone Totally Yours 267
Chapter 17: Ten Ways to Make Your Phone Secure 281
Chapter 18: Ten Features to Look for Down the Road 301
Index 309
See More
Bill Hughes is an experienced marketing strategy executive with over two decades of experience in sales, strategic marketing, and business development roles at several leading corporations, including Microsoft, IBM, General Electric, Motorola, and US West Cellular.
See More