Textbook
Service Management and Marketing: Managing the Service Profit Logic, 4th Edition
ISBN: 978-1-118-92144-9
536 pages
January 2016, ©2014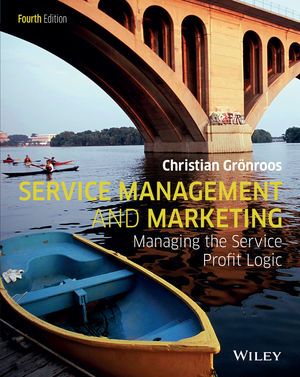 Written by a leading pioneer in the field, the revised and updated fourth edition of this successful text examines service management and management in service competition from the point of view of the service profit logic. It focuses on adopting service logic in the management of service firms as well as of product manufacturers which want to become service providers.
With a wide base of examples, Christian Grönroos draws on decades of experience to explain how to manage any organization as a service business and move closer to current and future customers. Service logic and service management are all about customer-focused outside-in management, using current academic research and business practice to make organizations more successful in the service-based economy.
See More
1 The Service and Relationship Imperative: Managing in Service Competition
2 The Nature of Services and Service Consumption, and its Customer Management Implications
3 The Service Profit Logic and Service Management Principles
4 Service and Relationship Quality
5 Quality Management in Services
6 Return on Service and Relationships
7 Managing the Augmented Service Offering
8 Managing Productivity in Service Organizations
9 Managing Marketing or Customer-Focused Management
10 Managing Integrated Marketing Communication and Relationship Communication
11 Managing Brand Relationships and Image
12 The Role of Social Media in Services Management
13 Customer-focused Organization: Structure, Resources and Service Processes
14 Managing Internal Marketing: A Prerequisite for Successful Customer Management
15 Managing Service Culture: The Internal Service Imperative
16 Transforming a Manufacturing Firm into a Service Business
17 Conclusions: Managing Sevice and Relationships
See More
Christian Gronroos is Professor of Service and Relationship Marketing at the Hanken Swedish School of Economics and Business Administration, Finland, where he is chair of the research centre CERS (Centre for Relationship Marketing and Service Management). He is also a former visiting Professor at Arizona State University and a research fellow of its Centre for Services Marketing and Management. He has received the American Marketing Association's Award for Lifetime Contribution to the services field and has been involved in executive education in Europe, North America, Latin America, Asia (including mainland China), Australia and New Zealand.
See More
Updates to this New Edition include:
• Service as a business and marketing perspective
• The nature of the service profit logic and outside-in management
• The service and relationship imperative
• Marketing as making organizations meaningful to their customers
• Transforming manufacturing firms into service businesses
• New cases and managerial implications
• A new chapter on social media and the new reality of word of mouth communication
See More
Written by a leading pioneer in the field, drawing on decades of experience
Draws from a wide base of international research and provides numerous international examples
See More
"Christian Grönroos is a globally recognized expert on services management and marketing. His innovative thinking and writing in this book offer fresh insights on this timely topic."
Stephen W. Brown, Arizona State University, USA

"After three decades of contributions to services, Grönroos keeps pioneering the field. In this new edition he recognizes the dramatic changes in the perception of service that are in the making. It is a creative book which does not just list various service issues but adds the author's personal touch to each of them."
Professor Evert Gummesson, Stockholm University School of Business, Sweden
"Professor Grönroos presents the most scholarly and provocative examination of services marketing. This book will challenge companies to rethink how they should manage their services in building their competitive strength and profitability. Grönroos continues as one of service marketing's most original and able thinkers."
Philip Kotler, Northwestern University, USA
As competition intensifies, due to globalization and the rapid growth of emerging economies, service and services have become increasingly important determinants of commercial success. To prosper in this environment calls for insight, knowledge and strategic application of a service orientation. All of these may be found in this new fourth edition of Christian Gronroos' path-breaking text which is recommended reading for both students and practitioners.
Professor Michael J. Baker, University of Strathclyde, UK
See More
Instructors Resources
Digital evaluation copy available for this title
Request Copy

Contact your Wiley Representative
Find Your Rep

See More
See Less