The Wiley Handbook of Home Education
ISBN: 978-1-118-92693-2
544 pages
December 2016, Wiley-Blackwell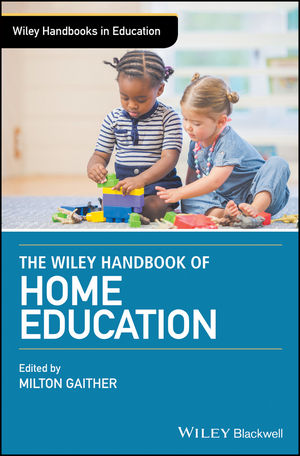 The Wiley Handbook of Home Education
is a comprehensive collection of the latest scholarship in all aspects of home education in the United States and abroad.
Presents the latest findings on academic achievement of home-schooled children, issues of socialization, and legal argumentation about home-schooling and government regulation
A truly global perspective on home education, this handbook includes the disparate work of scholars outside of the U.S.
Typically understudied topics are addressed, such as the emotional lives of home educating mothers and the impact of home education on young adults
Writing is accessible to students, scholars, educators, and anyone interested in home schooling issues
See More
Notes on Contributors vii
Introduction to The Wiley Handbook of Home Education 1
Milton Gaither
Part I Home Education in the United States 5
1 The History of Homeschooling 7
Milton Gaither
2 Using Survey Data Sets to Study Homeschooling 32
Eric Isenberg
3 Legal Issues in Homeschooling 59
Antony Barone Kolenc
4 The Calculus of Departure: Parent Motivations for Homeschooling 86
Joseph Murphy, Milton Gaither, and Christine E. Gleim
5 Academic Achievement: Making an Informed Choice about Homeschooling 121
Sandra Martin‐Chang and Kyle Levesque
6 Homeschooler Socialization: Skills, Values, and Citizenship 135
Robert Kunzman
7 Homeschoolers and Higher Education 157
Marc Snyder
8 Homeschooling Motherhood 186
Jennifer Lois
9 Homeschooling among Ethnic‐Minority Populations 207
Cheryl Fields‐Smith
10 Teaching the Child with Exceptional Needs at Home 222
Karen Hurlbutt‐Eastman
11 Homeschooling 2.0: An Overview of Online Learning in K–12 Education across the United States 246
Bryan Mann
Part II Home Education Worldwide 269
12 Home Education in Canada 271
Christine Brabant and Marine Dumond
13 Home Education in the United Kingdom 303
Helen E. Lees and Fiona Nicholson
14 Common Themes in Australian and New Zealand Home Education Research 329
Glenda M. Jackson
15 Theories, Practices, and Environments of Learning and Home Education in Latin America 362
Erwin Fabián García López, Diego Fernando Barrera Tenorio, and Wills Emilio Alejandro Fonseca
16 The Legal Situation of Home Education in Europe 395
Henk Blok, Michael S. Merry, and Sjoerd Karsten
17 Home Education Experience in Selected Post‐Communist Countries 422
Yvona Kostelecká
18 Home Education in Asia Minor 446
Elife Doğan Kılıç
19 Home Education in China 468
Xiaoming Sheng
20 Contemporary Homeschooling and the Issue of Racism: The Case of South Africa 494
Michael Olalekan Olatunji
Index 516
See More
Milton Gaither is Professor of Education at Messiah College in Mechanicsburg, Pennsylvania. He is the author of American Educational History Revisited: A Critique of Progress (2003) and Homeschool: An American History (2008). Gaither has held several leadership roles for the History of Education Society and is a founder and board member of the International Center for Home Education Research.
See More
More in this series