America, Sea Power, and the World
ISBN: 978-1-118-92792-2
408 pages
February 2016, Wiley-Blackwell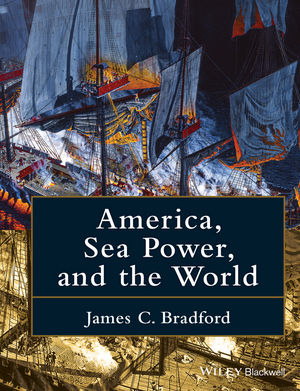 This survey of American naval history features original chapters from key scholars in the field that trace the relationship between the American Navy and the position of the United States on the global political stage over the past 250 years.
Places equal weight on the influence of major wartime campaigns and naval efforts to defend and expand America's political and economic interests during times of peace
Includes an array of illustrations and 56 new maps, seamlessly integrated within each chapter
Each chapter features sidebars with biographical sketches of influential leaders and descriptions of weapons and technological developments of the era
See More
List of Contributors ix
List of Maps xiii
List of Figures xv
List of Tables xvii
List of Vignettes xix
Preface xxi
Acknowledgments xxiii
1. Sea Power and the Modern State System 1
2. The American War for Independence at Sea 11
3. Genesis of the US Navy, 1785–1806 26
4. The Naval War of 1812 and the Confirmation of Independence, 1807–1815 42
5. The Squadron Navy: Agent of a Commercial Empire, 1815–1890 58
6. Technological Revolution at Sea 74
7. The Civil War: Blockade and Counter-Blockade 87
8. The Civil War on Rivers and Coastal Waters 101
9. The New Navy, 1865–1895 116
10. War with Spain and the Revolution in Naval Affairs, 1895–1910 133
11. Defending Imperial Interests in Asia and the Caribbean, 1898–1941 149
12. Naval Rivalry and World War I at Sea, 1900–1920 163
13. Finding Certainty in Uncertain Times: The Navy in the Interwar Years 179
14. World War II in the Atlantic and Mediterranean 193
15. Defense in the Pacific, 1937–1943 210
16. Offensive in the Pacific, 1943–1944 225
17. The Victory of Sea Power in the Pacific 242
18. The Uneasy Transition, 1945–1953 259
19. Cold War Challenges, 1953–1963 274
20. The Test of Vietnam 289
21. Twilight of the Cold War: Contraction, Reform, and Revival 305
22. Contours of Conflict: Worldwide War on Terrorism, 1990–2015 323
23. Quo Vadis? 339
Further Reading 355
Index 363
See More
James C. Bradford is professor of naval and early American history at Texas A&M University. A past president of the North American Society for Oceanic History, he held the Class of 1957 Distinguished Chair in Naval Heritage at the U.S. Naval Academy, and was the recipient of the George H.W. Bush Excellence Award for Faculty in International Teaching and the Commodore Dudley W. Knox Naval History Lifetime Achievement Award from the Naval Historical Foundation. Bradford has published several books, including the International Encyclopedia of Military History (2015), Command Under Sail: Makers of the American Naval Tradition (2013), and A Companion to American Military History (Wiley Blackwell, 2009).
See More