E-book
Emotionally Intelligent Leadership: A Guide for Students, 2nd Edition
ISBN: 978-1-118-93232-2
288 pages
January 2015, Jossey-Bass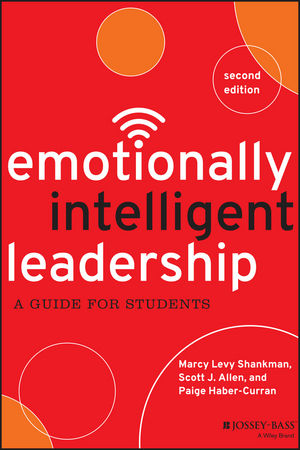 The only book for students which explores the connection between emotional intelligence and effective leadership
Emotionally Intelligent Leadership: A Guide for Students is based on a conceptual model that helps students to become emotionally intelligent leaders. Research from around the world has demonstrated that there is a relationship between emotional intelligence and leadership. For the second edition of Emotionally Intelligent Leadership, the authors have incorporated their revised, data-based emotionally intelligent leadership (EIL) model into an engaging text for high school, undergraduate, and graduate students.
The book can be used in conjunction with the Emotionally Intelligent Leadership for Students Inventory and Student Workbook for an immersive and transformative educational experience. Students will appreciate the opportunity to learn more about themselves as they reflect on their experiences as learners and their own leadership journeys.
The new edition is substantially rewritten based new research on the EIL model
Its clear structure is organized around the three facets of emotionally intelligent leadership and 19 leadership capacities
Questions at the end of each chapter encourage purposeful reflection and leadership growth
Emotionally Intelligent Leadership is one of a kind, fostering growth and promoting intense self-reflection. Students are empowered to enhance the campus experience and develop into effective leaders of the future. Emotionally Intelligent Leadership is the perfect introduction to leading with emotional intelligence.
See More
Foreword: It's All about Relationships vii
Susan R. Komives
Acknowledgments xi
About the Authors xiii
1 Introduction 1
Part One: Consciousness of Self 19
2 Consciousness of Self 21
3 Emotional Self-Perception 31
4 Emotional Self-Control 41
5 Authenticity 51
6 Healthy Self-Esteem 61
7 Flexibility 71
8 Optimism 79
9 Initiative 91
10 Achievement 101
Part Two: Consciousness of Others 109
11 Consciousness of Others 111
12 Displaying Empathy 119
13 Inspiring Others 129
14 Coaching Others 139
15 Capitalizing on Difference 149
16 Developing Relationships 159
17 Building Teams 169
18 Demonstrating Citizenship 179
19 Managing Conflict 187
20 Facilitating Change 197
Part Three: Consciousness of Context 207
21 Consciousness of Context 209
22 Analyzing the Group 217
23 Assessing the Environment 227
24 Developing Emotionally Intelligent Leadership 237
Appendix: EIL Overview 243
Index 247
See More
MARCY LEVY SHANKMAN is vice president for strategy and director of Leadership Cleveland for the Cleveland Leadership Center.
SCOTT J. ALLEN is associate professor of management at John Carroll University.
PAIGE HABER-CURRAN is assistant professor and program coordinator for the Student Affairs in Higher Education Program at Texas State University.
See More
Learn more about