Manual of Veterinary Transfusion Medicine and Blood Banking
ISBN: 978-1-118-93302-2
408 pages
September 2016, Wiley-Blackwell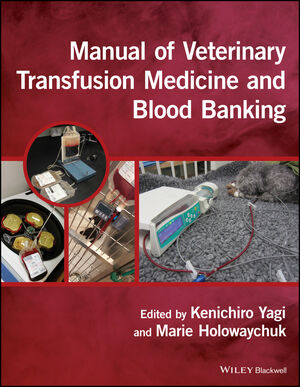 Using a practical approach, the Manual of Veterinary Transfusion Medicine and Blood Banking provides veterinary practitioners with evidence-based guidelines to refer to at the clinical practice level.
Provides evidence-based information on transfusion medicine and blood banking practices
Presents sections on recipient screening, donor selection, blood collection and storage, and how to meet blood product demands
Includes useful protocols for transfusions and blood banking relevant to clinical practice
Incorporates the balanced perspectives of veterinarians and veterinary technicians
Contains information pertaining to large, small, and exotic animals
See More
Contributors, ix
About the Editors, xi
Preface, xiii
Section I: Introduction to Veterinary Transfusion Medicine
1 Evolution of Veterinary Transfusion Medicine and Blood Banking, 3
Marie K. Holowaychuk and Kenichiro Yagi
2 Component Therapy, 13
Julie M. Walker
Section II: Blood Products
3 Red Blood Cell Products, 29
Caroline Kisielewicz
4 Plasma Products, 43
K. Jane Wardrop and Marjory Brooks
5 Platelet Products, 55
Mary Beth Callan and Kimberly Marryott
6 Hemoglobin-Based Oxygen Carrier Solutions, 70
Marie K. Holowaychuk and Thomas K. Day
7 Alternative Plasma Protein Products: Albumin and Human Immunoglobulin Therapy, 83
Nicole Spurlock
8 Miscellaneous Blood Product Usage, 103
Marie K. Holowaychuk and Kenichiro Yagi
Section III: Blood Product Administration
9 Canine Recipient Screening, 117
Lynel J. Tocci
10 Feline Recipient Screening, 129
Anthony C.G. Abrams-Ogg
11 Transfusion-Associated Complications, 155
Shauna L. Blois
12 Recipient Monitoring, 172
Kenichiro Yagi and Marie K. Holowaychuk
Section IV: Blood Banking
13 Canine Donor Selection, 189
Kenichiro Yagi and Brandee L. Bean
14 Canine Blood Collection, 199
Kenichiro Yagi
15 Feline Donor Selection, 212
Charlotte Russo and Karen Humm
16 Feline Blood Collection, 223
Robyn K. Taylor and Karen Humm
17 Blood Component Processing and Storage, 237
Cheryl L. Mansell and Manuel Boller
Section V: Meeting Blood Product Demands
18 Blood Product Sources, 259
Sally Lester
19 Donor Program Management, 271
Rebecca J. Nusbaum
20 Limiting Allogenic Blood Transfusions, 284
Marie K. Holowaychuk
21 Alternative Transfusion Methods, 296
Sophie Adamantos and Caroline Smith
Section VI: Transfusion Medicine in Other Species
22 Equine Transfusion Medicine, 309
Margaret C. Mudge and Olivia H. Williams
23 Food and Fiber Animal Transfusion Medicine, 321
Brent C. Credille and Kira L. Epstein
24 Avian Transfusion Medicine, 334
Stephen Cital, Angela M. Lennox and Andrea Goodnight
25 Small Mammal Transfusion Medicine, 345
Jody Nugent-Deal and Kristina Palmer
26 Reptile and Amphibian Transfusion Medicine, 358
Stephen Cital and Andrea Goodnight
27 Primate Transfusion Medicine, 366
Stephen Cital, Angela Colagross-Schouten and Laura Summers
Index, 377
See More
Kenichiro Yagi, BS, RVT, VTS (ECC, SAIM), is an ICU Manager and the Blood Bank Manager at Adobe Animal Hospital in Los Altos, California, USA.
Marie K. Holowaychuk, DVM, DACVECC is a specialist in small animal emergency and critical care and works as a locum criticalist, speaker, and consultant.
See More