Customer Analytics For Dummies
ISBN: 978-1-118-93759-4
336 pages
February 2015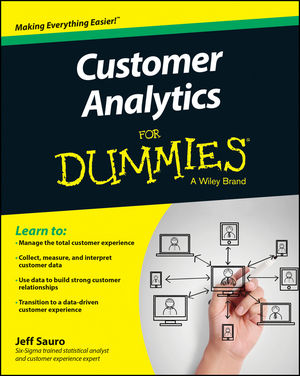 The easy way to grasp customer analytics
Ensuring your customers are having positive experiences with your company at all levels, including initial brand awareness and loyalty, is crucial to the success of your business. Customer Analytics For Dummies shows you how to measure each stage of the customer journey and use the right analytics to understand customer behavior and make key business decisions.
Customer Analytics For Dummies gets you up to speed on what you should be testing. You'll also find current information on how to leverage A/B testing, social media's role in the post-purchasing analytics, usability metrics, prediction and statistics, and much more to effectively manage the customer experience. Written by a highly visible expert in the area of customer analytics, this guide will have you up and running on putting customer analytics into practice at your own business in no time.
Shows you what to measure, how to measure, and ways to interpret the data
Provides real-world customer analytics examples from companies such as Wikipedia, PayPal, and Walmart
Explains how to use customer analytics to make smarter business decisions that generate more loyal customers
Offers easy-to-digest information on understanding each stage of the customer journey
Whether you're part of a Customer Engagement team or a product, marketing, or design professional looking to get a leg up, Customer Analytics For Dummies has you covered.
See More
Introduction 1
Part I: Getting Started with Customer Analytics 5
Chapter 1: Introducing Customer Analytics 7
Chapter 2: Embracing the Science and Art of Metrics 15
Chapter 3: Planning a Customer Analytics Initiative 31
Part II: Identifying Your Customers 41
Chapter 4: Segmenting Customers 43
Chapter 5: Creating Customer Personas 61
Chapter 6: Determining Customer Lifetime Value 75
Part III: Analytics for the Customer Journey 85
Chapter 7: Mapping the Customer Journey 87
Chapter 8: Determining Brand Awareness and Attitudes 103
Chapter 9: Measuring Customer Attitudes 113
Chapter 10: Quantifying the Consideration and Purchase Phases 133
Chapter 11: Tracking Post-Purchase Behavior 151
Chapter 12: Measuring Customer Loyalty 163
Part IV: Analytics for Product Development 185
Chapter 13: Developing Products That Customers Want 187
Chapter 14: Gaining Insights through a Usability Study 207
Chapter 15: Measuring Findability and Navigation 231
Chapter 16: Considering the Ethics of Customer Analytics 249
Part V: The Part of Tens 255
Chapter 17: Ten Customer Metrics You Should Collect 257
Chapter 18: Ten Methods to Improve the Customer Experience 263
Chapter 19: Ten Common Analytic Mistakes 267
Chapter 20: Ten Methods for Identifying Customer Needs 271
Appendix: Predicting with Customer Analytics 277
Index 311
See More
Jeff Sauro is a Six-Sigma trained statistical analyst and pioneer in quantifying the customer experience. He writes a weekly column at measuringu.com and has been an invited speaker at Fortune 500 companies, industry conferences, and as an expert witness.
See More