E-book
Social Cognition in Middle Childhood and Adolescence: Integrating the Personal, Social, and Educational Lives of Young People
ISBN: 978-1-118-93802-7
352 pages
September 2016, Wiley-Blackwell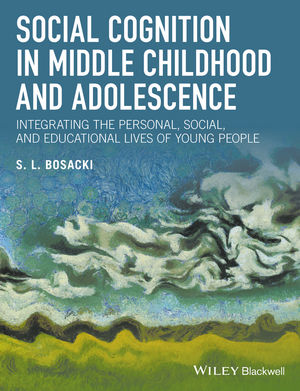 Bridging psychological theory and educational practice, this is an innovative textbook on the emotional and social aspects of young people's development. Bosacki's Social Cognition in Middle Childhood and Adolescence, First Edition moves beyond tradition cognitivist representations of how children learn and grow, focusing on how to integrate the emotional, cognitive, moral, spiritual and social in young people's experiences. This text bridges the gap between theory and practice; analyses cutting edge research and translates it into culturally sensitive and developmentally appropriate strategies for future educational practice.
See More
Preface ix
Acknowledgments xi
Introduction 1
Part I Foundations 13
1 Social Cognitive Abilities and School Experiences of Young People: Theory and Evidence 15
2 Developmental Social Cognition and Research Methodologies 34
Part II Social Cognitive Educational and Developmental Research: Self 55
3 The Cognitive Self: Language and Executive Functions 57
4 The Emotional Self: Self?]Development and Emotional Regulation 82
5 The Moral Self: Morality, Spirituality, and Self?]Development 109
Part III Social Cognitive Educational and Developmental Research: Social 133
6 Peer Relationships 135
7 Family Relationships 157
8 Gender and Culture 188
Part IV Ecologies of Social Cognitive Development 223
9 Digital Worlds and Social Media 225
10 Social Cognition and Behavioral and Emotional Challenges 248
Part V Future Questions and Implications for Practice: Helping Young People to Move Forward 277
11 Developmental Social Cognitive Pedagogy 279
12 Beyond Social Cognition 307
Conclusion: Closing Thoughts and New Questions 324
Index 328
See More
Sandra Bosacki is Professor in the Department of Graduate and Undergraduate Studies in Education, at Brock University, Canada, where she teaches graduate courses in applied developmental psychology. Her teaching and research interests include socio-cognitive, emotional, moral, and spiritual development within diverse cultural and educational contexts. She is Assistant Editor of the Journal of Adolescence, and the author of numerous journal articles and books, including Culture of Ambiguity (2012), Children's Emotional Lives (2008), and The Culture of Classroom Silence (2005).
See More