Attachment in Intellectual and Developmental Disability: A Clinician's Guide to Practice and Research
ISBN: 978-1-118-93803-4
296 pages
May 2016, Wiley-Blackwell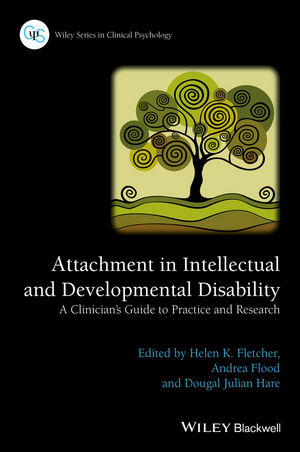 Attachment in Intellectual and Developmental Disability: A Clinician's Guide to Practice and Research
is the first book to explore the clinical difficulties associated with attachment relationships in people with intellectual and developmental disabilities.
Draws together knowledge from disparate sources in a definitive new resource for clinicians working in this area
A growing body of evidence-based approaches in this area are underpinned by attachment theory, including direct intervention and the use of attachment theory to understand interactions and relationships
Presents and integrates cutting-edge models and approaches that have previously been available only to specialists
Written by mainstream practitioners who are active in clinical work and research; focused on real-world applications, with illustrative case examples throughout
See More
About the Contributors vii
Foreword xiv
Acknowledgements xvi
Chapter 1 Introduction 1
Dougal Julian Hare, Helen K Fletcher and Andrea Flood
Chapter 2 An Overview of Attachment Theory: Bowlby and Beyond 8
Helen K Fletcher and Deanna J Gallichan
Chapter 3 Attachment Relationships Between Parents and Their Children: The Impact of 'The Loss of the Healthy Child' 33
Helen K Fletcher
Chapter 4 Assessing Attachment Relationships in People with Intellectual Disabilities 59
Samantha Walker, Victoria Penketh, Hazel Lewis and Dougal Julian Hare
Chapter 5 Autism Spectrum Disorder and Attachment: A Clinician's Perspective 79
Ewan Perry and Andrea Flood
Chapter 6 Maintaining the Bond: Working with People who are Described as Showing Challenging Behaviour Using a Framework Based on Attachment Theory 104
Allan Skelly
Chapter 7 Psychotherapy and Attachment Dynamics in People with Intellectual Disabilities: A Personal View 130
Pat Frankish
Chapter 8 Adult Attachment and Care Staff Functioning 151
Carlo Schuengel, Jennifer Clegg, J Clasien de Schipper and Sabina Kef
Chapter 9 Have a Heart: Helping Services to Provide Emotionally Aware Support 172
Amanda Shackleton
Chapter 10 Attachment Trauma and Pathological Mourning in Adults with Intellectual Disabilities 197
Deanna J Gallichan and Carol George
Chapter 11 Attachment, Personality Disorder and Offending: Clinical Implications 223
Lesley Steptoe, William R Lindsay, Caroline Finlay and Sandra Miller
Chapter 12 Getting Intimate: Using Attachment Theory to Understand Intimate Relationships in our Work with People with Intellectual Disabilities 244
Nancy Sheppard and Myooran Canagaratnam
Index 266
See More
Helen K Fletcher is a Chartered Clinical Psychologist within Southern Health NHS Trust and a Visiting Tutor for the Oxford Institute of Clinical Psychology Training. She has over twelve years of experience working with children and adults with IDD within the NHS in Community, Inpatient and Specialist Teams. Helen has carried out research in the area of Attachment and ID and has presented on the topic at national conferences.
Andrea Flood is a Chartered Clinical Psychologist, who has worked with children and adults with intellectual disabilities and /or autism spectrum disorder since qualifying in 2004. She currently works as a Clinical Teacher on the Doctorate in Clinical Psychology Programme at Liverpool University. Andrea is a co-author of the Manchester Attachment Scale – 3rd party observational measure (MAST).
Dougal Julian Hare is Reader in Clinical Psychology at Cardiff University and Research Director for the South Wales clinical psychology training programme. He has practiced as a Chartered Clinical Psychologist working with people with intellectual and developmental disabilities (IDD) for nearly twenty years and has been an author on over eighty peer-reviewed articles and chapters in the fields of ID, neuropsychology and personal construct psychology.
See More
More in this series