Black Male Collegians: Increasing Access, Retention, and Persistence in Higher Education: ASHE Higher Education Report 40:3
ISBN: 978-1-118-94165-2
168 pages
July 2014, Jossey-Bass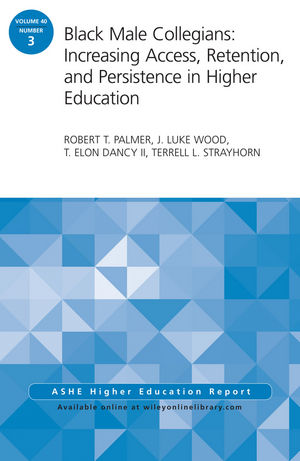 Improving college access and success among Black males has garnered tremendous attention. Many social scientists have noted that Black men account for only 4.3% of the total enrollment at 4-year postsecondary institutions in the United States, the same percentage now as in 1976. Furthermore, two thirds of Black men who start college never finish. The lack of progress among Black men in higher education has caused researchers, practitioners, and policymakers to become increasingly focused on ways to increase their access and success.
Offering recommendations and strategies to help advance success among Black males, this monograph provides a comprehensive synthesis and analysis of factors that promote the access, retention, and persistence of Black men at diverse institutional types (e.g., historically Black colleges and universities, predominantly White institutions, and community colleges). It delineates institutional policies, programs, practices, and other factors that encourage the success of Black men in postsecondary education.
This is the 3rd issue of the 40th volume of the Jossey-Bass series ASHE Higher Education Report. Each monograph is the definitive analysis of a tough higher education issue, based on thorough research of pertinent literature and institutional experiences. Topics are identified by a national survey. Noted practitioners and scholars are then commissioned to write the reports, with experts providing critical reviews of each manuscript before publication.
See More
Executive Summary vii
Dedications ix
Foreword xi
Acknowledgments xv
Contextualizing the Experiences of Black Men in Society and Education: Setting the Foundation 1
Purpose of the Monograph: Reshaping the Puzzle 5
Snapshot: Black Males in Pre–K12 Education 7
Status: Black Men in Postsecondary Education 11
Overview of the Monograph 25
Getting to College: Factors Affecting Black Male Achievement in Schools and the Educational Pipeline 27
The U.S. Black Educational Pipeline: Sociohistorical and Policy Perspectives 30
Black Males in U.S. Schools: A National Framework 34
Conclusion 51
Factors Critical to the Access and Success of Black Men in Postsecondary Education 55
TRIO Programs: Facilitating Access to Higher Education for Black Students by Increasing College Readiness 56
Affirmative Action: A Critical Facilitator of Access to Higher Education for Black Students 57
College Readiness Programs: A Vital Linkage to Access and Success for Black Students 58
Black Men at Historically Black Colleges and Universities 60
Black Men at Predominantly White Institutions 63
Black Men at Community Colleges 64
Student Engagement and Academic Success 67
Factors Critical to the Success of Black Men in Postsecondary Education 76
Conclusion 84
Implications for Future Research, Policy, and Practice 87
Implications for Future Research 87
Implications for Practice 93
Implications for Policy 96
Concluding Remarks 99
Appendix 101
References 109
Name Index 135
Subject Index 141
About the Authors 145
See More
ROBERT T. PALMER, PhD, is an associate professor of student affairs at the State University of New York at Binghamton.
J. LUKE WOOD, PhD, is an associate professor of administration, rehabilitation, and postsecondary education at San Diego State University.
T. ELON DANCY II, PhD, is an associate professor of higher education at The University of Oklahoma in Norman.
TERRELL L. STRAYHORN, PhD, is an associate professor of higher education in the Department of Educational Studies, College of Education and Human Ecology at The Ohio State University.
See More
Learn more about