Textbook
A History of the Cuban Revolution, 2nd Edition
ISBN: 978-1-118-94228-4
248 pages
April 2015, ©2015, Wiley-Blackwell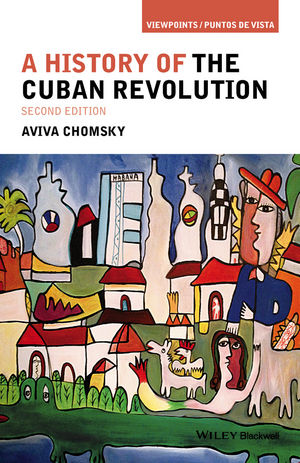 A fully-revised and updated new edition of a concise and insightful socio-historical analysis of the Cuban revolution, and the course it took over five and a half decades.
Now available in a fully-revised second edition, including new material to add to the book's coverage of Cuba over the past decade under Raul Castro
All of the existing chapters have been updated to reflect recent scholarship
Balances social and historical insight into the revolution with economic and political analysis extending into the twenty-first century
Juxtaposes U.S. and Cuban perspectives on the historical impact of the revolution, engaging and debunking the myths and preconceptions surrounding one of the most formative political events of the twentieth century
Incorporates more student-friendly features such as a timeline and glossary
See More
List of Illustrations viii
Series Editor's Preface ix
Acknowledgments xi
Timeline xii
Introduction 1
Talking about Freedom 2
Scholars Weigh In 3
Why Revolution? 5
Comparing Capitalism and Socialism 8
Latin American Attitudes 12
1 Cuba through 1959 15
Colonial History 15
The Colony in the Republic 20
Revolution: A War, or a Process? 28
2 Experiments with Socialism 36
Analyzing the Situation: Economic Backwardness 37
The 1960s: Experimentation and the Great Debate 40
The 1970s: Institutionalization and the Soviet Model 45
Cuba in the 1970s: How it Worked 46
1986: Rectification 51
How Democratic was Cuban Socialism? 51
3 Relations with the United States 54
The United States and Cuba 55
In their Own Words: U.S. Policymakers Respond to Revolution 57
Covert War: Up to the Bay of Pigs 63
Covert War: After the Bay of Pigs 65
The Missile Crisis 68
After the Missile Crisis 70
The War Continues 72
4 Emigration and Internationalism 75
Miami 78
Beyond Miami 80
Cuba's Global Reach: Beyond the Cold War 81
Cuba and Black Internationalism 82
Cuba in Africa and Latin America 84
Civilian Aid Missions 86
5 Art, Culture, and Revolution 88
Literature 89
Film 94
Music 98
Sport 100
Dance 102
Food 103
Political Culture and Cultural Politics 105
6 Cuba Diversa 110
Race 110
Gender 116
Sexuality 119
Religion 123
7 The "Special Period": Socialism on One Island 126
1993–95: Rapid ]Fire Reforms 126
Social Impact of the Market Reforms 130
Limits to Capitalism 132
Charting New Territory 134
Contradictions: Inequality and Jineterismo 135
Opting to Leave: The 1994 Exodus 138
Debate and its Limits during the 1990s 141
Debating Democracy 142
Limits to Debate 146
8 Cuba into the Twenty ]First Century 149
From Perfeccionamiento to Recentralization 150
Disillusionment 153
Cuba after Fidel: A New Era? 155
Civil Society into the New Century 159
U.S. Policy: The Bush Era 163
Cuba, Venezuela, and the ALBA 164
Barack Obama and Raul Castro: A New Relationship? 166
Analyzing the Changes 168
Conclusion 171
Glossary 174
Notes 177
Bibliography 198
Index 214
See More
Aviva Chomsky is Professor of History and Coordinator of Latin American, Latino and Caribbean Studies at Salem State University. An active member of Latin America solidarity and immigrants' rights movements for decades, she is the author of several books, including Undocumented: How Immigration Became Illegal (2014), Linked Labor Histories: New England, Colombia, and the Making of a Global Working Class (2008), and They Take Our Jobs! And Twenty Other Myths about Immigration (2007).
See More
More in this series