E-book
BIM and Construction Management: Proven Tools, Methods, and Workflows, 2nd Edition
ISBN: 978-1-118-94277-2
408 pages
May 2015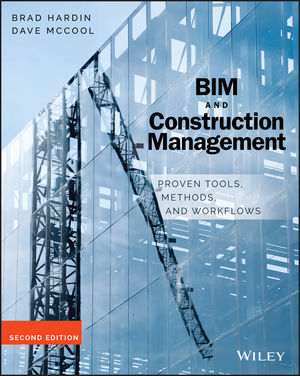 A sleeker, more comprehensive approach to construction projects
BIM and Construction Management, Second Edition is a complete integration guide, featuring practical advice, project tested methods and workflows, and tutorials for implementing Building Information Modeling and technology in construction. Updated to align with the latest software editions from Autodesk, Trimble and Bentley, this book provides a common sense approach to leveraging BIM to provide significant value throughout a project's life cycle. This book outlines a results-focused approach which shows you how to incorporate BIM and other technologies into all phases of construction management, such as:

Project planning: Set up the BIM project to succeed right from the start by using the right contracts, the right processes and the right technology
Marketing: How to exceed customer expectations and market your brand of BIM to win.
Pre-construction: Take a practical approach to engineer out risks in your project by using the model early to virtually build and analyze your project, prior to physical construction.
Construction: Leverage the model throughout construction to build safer and with better quality.
Field work: Learn how mobile technologies have disrupted the way we work in the field to optimize efficiencies and access information faster.
Closeout: Deliver a better product to your customer that goes beyond the physical structure and better prepares them for future operations.
Additionally, the book provides a look at technology trends in construction and a thoughtful perspective into potential use cases going forward.
BIM and Construction Management, Second Edition builds on what has changed in the construction landscape and highlights a new way of delivering BIM-enabled projects. Aligning to industry trends such as Lean, integrated delivery methods, mobile platforms and cloud-based collaboration this book illustrates how using BIM and technology efficiently can create value.
See More
Introduction xvii
Chapter 1 Why Is Technology So Important to Construction Management? 1
The Promise of BIM 2
Processes 4
Technologies 5
Behaviors 7
The Value of BIM in Construction 8
Where Does BIM Play a Role in Construction Management? 15
Team Engagement 16
Project Pursuit and Business Development 16
Planning for BIM Success 19
Using Contracts in Planning 19
Scheduling 20
Logistics 22
Estimating Cost 23
Constructability 25
Analyzing Data in BIM 27
Designing for Prefabrication 29
Coordinating Construction 31
Using Mobile Devices 32
Controlling Schedules 33
Controlling Cost 34
Managing Change 35
Material Management 37
Tracking Equipment 37
Closeout 38
Managing Facilities 39
Knowledge Platform Population 40
Where the Industry Is Headed 42
Leadership Buy-In 42
The Evolving Role of the BIM Manager 43
What Have Been the Results? 43
Summary 44
Chapter 2 Project Planning 45
Delivery Methods 46
Design-Bid-Build 47
Construction Manager at Risk 52
Design-Build 56
Integrated Project Delivery 62
BIM Addenda (Contracts) 63
AIA: Document E202 65
AGC: ConsensusDocs 301 65
DBIA: Document E-BIMWD 65
AIA: Document E203 66
Contracts Summary 66
The Fundamental Uses of BIM 67
Level of Development 68
Model-Based Coordination 69
Model-Based Scheduling 72
Model-Based Estimating 72
Model-Based Facilities Management 73
Model-Based Analysis 74
BIM Execution Plan 75
History of the BIM Execution Plan 75
Communication 77
Expectation 83
Organization 85
Summary 89
Chapter 3 How to Market BIM and Win the Project 91
BIM Marketing Background 92
Building Your Team 94
Marketing Your Brand of BIM 97
Does What You Are Proposing Show Clear and Demonstrable Value? 98
Is This a Proven Tool or Process, a Developing One, or an Innovative One? 99
Can You Show Real Results from the Impact of Implementation? 102
Is This What the Owner Wants? 104
Is This Something You Can Deliver? 105
Using BIM to Enhance the Proposal 108
Addressing BIM in the RFP 108
Project Pursuit Images 110
Project Simulations 112
Project Pursuit Virtual/Augmented Reality Simulations 113
Other Marketing Tools 116
Tailor-Fit Your Offerings 116
Client Alignment 117
Pushing the Envelope 118
Seeking Value and Focusing on Results 118
Summary 121
Chapter 4 BIM and Preconstruction 123
Leaning on the Past 124
The Empire State Building 125
Adopting New Technology 132
The Journey to BIM 134
The Kickoff 136
Getting the Right People in the Room 136
Creating the Vision 138
Opening the Lines of Communication 139
Accounting for the Expectation Bias 139
Scheduling Design 139
Design Structure Matrix 145
Scheduling the LOD 148
Constructability Review 149
Leverage the Plans 150
Leverage the Details 153
Leverage the People 158
Estimating 163
Revit Schedules for Estimating 164
Cost Trending with Assemble 171
Analysis 175
The 2030 Challenge 176
Overview of Sustainability and BIM 177
Sustainability Analysis with Sefaira 182
Logistics and Planning 188
Summary 190
Chapter 5 BIM and Construction 191
Overview of BIM in Construction 192
Model Coordination 194
BIM and Site Coordination 194
Clash Detection 196
Navisworks Conflict Exercise 196
Fabrication 208
BIM Scheduling 213
Scheduling Software 217
Completing the Feedback Loop 226
Systems Installation 228
Installation Management 228
Installation Verifi cation 232
Construction Activity Tracking 234
Field Issue Management 235
BIM and Safety 236
Producing Better Field Information 238
Beginning with the End in Mind 239
What Information Do You Need to Build? 242
Model Redlining Exercise 242
Video Embedding Exercise 250
The Virtual Job Trailer 252
The Conference Room 252
The Plans and Specifications Hub 254
The Jobsite Offi ce as a Server 254
The Jobsite Offi ce as a Communication Hub 255
Setting Up the Job Trailer 255
Summary 256
Chapter 6 BIM and Construction Administration 257
The Battle for BIM 258
Training Field Personnel 261
Training Goals for Basic Skills 263
Advanced Training Goals for Model Creation 263
Training Courses for Additional Uses 265
Document Control 270
Creating a Digital Plan Room with Bluebeam Revu eXtreme 272
The Real Value of 4D 281
Developing BIM Intuition 284
Starting with a Door 284
Assemble Systems: Beyond the Basics 286
Importing Search Sets into Navisworks 288
Mapping Equipment to BIM 360 Field 291
Information Loading and QR Coding 295
Using 360 Field to Status Material 299
Visualizing Equipment Status in the Model 301
Endless Possibilities 304
Small Wins to Big Change 305
Summary 305
Chapter 7 BIM and Close Out 307
True Costs of Facility Operations 308
Artifact Deliverables 310
Constant Deliverables 315
Taking a Hybrid Approach 317
Owners and BIM 317
Owner Options 318
Integration of a Record BIM 320
BIM and Information Handover 325
Maintaining the Model 329
Ongoing Investment and Logistics for Facility Management BIM 330
Training 332
Model Maintenance 333
One BIM = One Source of Information 334
Summary 337
Chapter 8 The Future of BIM 339
What Will BIM Be? 340
Industry Trends 340
BIM and Prefabrication 342
New Processes and Roles 343
Interoperability 345
BIM and Education 349
BIM and the New Construction Manager 351
BIM and the New Team 354
BIM and the New Process 356
Future Opportunities 357
Future Relationships 359
Virtual Builder Certification 360
Summary 362
Index 363
See More
BRAD HARDIN, RA, LEED AP, is the Chief Technology Officer for Black & Veatch, a global engineering and construction firm. An architect, construction manager and technology executive, he participates in industry events all over the world to further the cause of BIM and technology in the design and construction market. Brad is a co-founder of Virtual Builders, a nonprofit software, certification, and open-source development community.
DAVE MCCOOL is the Director of Virtual Design and Construction at McCarthy Building Companies. He holds a master's degree in engineering, DBIA, and LEED accreditation, and has lectured at multiple university and industry events. Dave is also a co-founder of Virtual Builders, and has held chair positions for AIA and NBIMS committees.
See More