Fiesers' Reagents for Organic Synthesis, Volume 28
ISBN: 978-1-118-94280-2
720 pages
April 2016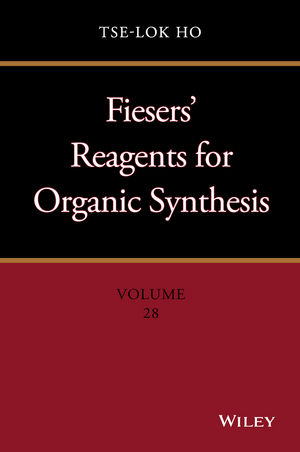 Fiesers' Reagents for Organic Synthesis provides an up-to-date, A-to-Z listing of reagents cited in synthetic literature.
• Covers, in volume 28, chemical literature and methodologies from July 2011 - December 2012
• Features entries with concise descriptions, illustrations of chemical reactions, selected examples of applications
• Includes author indexes and subject indexes
• Offers practical information on making/buying reagent, its usefulness, where to find complete details
See More
Preface vii
General Abbreviations viii
Reference Abbreviations xii
Chapter A 1
Chapter B 18
Chapter C 112
Chapter D 246
Chapter E 258
Chapter F 259
Chapter G 263
Chapter H 304
Chapter I 316
Chapter L 345
Chapter M 349
Chapter N 358
Chapter O 366
Chapter P 385
Chapter R 467
Chapter S 486
Chapter T 506
Chapter U 558
Chapter V 559
Chapter W 560
Chapter Y 562
Chapter Z 564
Author Index 571
Subject Index 665
See More
Tse-Lok Ho is Professor of Organic Chemistry at National Chiao Tung University in Taiwan. His research interests are in organic synthesis, including the total synthesis of natural products and the underlying methodology. He has written thirty books. Dr. Ho holds degrees from National Taiwan University and the University of New Brunswick, Canada.
See More