E-book
Medical Terminology For Dummies, 2nd Edition
ISBN: 978-1-118-94405-9
384 pages
January 2015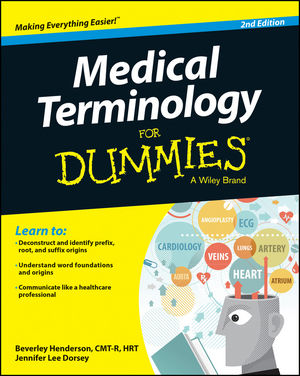 Grasp and retain the fundamentals of medical terminology quickly and easily
Don't know a carcinoma from a hematoma? This friendly guide explains how the easiest way to remember unfamiliar, often-tongue-twisting words is to learn their parts: the prefix, root, and suffix. Medical Terminology For Dummies breaks down the words you'll encounter in your medical terminology course and gives you plain-English explanations and examples to help you master definitions, pronunciations, and applications across all medical fields.
For many, the language of medicine and healthcare can be confusing, and frequently presents the greatest challenge to students – this guide was designed to help you overcome this problem with ease! Packed with ideas, study materials, quizzes, mind maps, and games to help you retain the information, Medical Terminology For Dummies quickly gets you up to speed on medical prefixes, suffixes, and root words so you'll approach even unfamiliar medical terms with confidence and ease.
Bone up on words that describe and are related to the body's systems
Correctly pronounce and understand the meanings of medical terms
Find tricks and study tips for memorizing words
Build your knowledge with helpful word-building activities
If you're working toward a certification or degree in a medical or healthcare field, or if you're already on the job, Medical Terminology For Dummies is the fast and easy way to learn the lingo.
See More
Introduction 1
Part I: Living for Linguistics 5
Chapter 1: Scrubbing In to Master Medical Terminology 7
Chapter 2: Medical Terminology: The How and Why 13
Chapter 3: Introducing the Big Three: Prefixes, Roots, and Suffixes 19
Chapter 4: Acronyms, Eponyms, Homonyms, Multiples, and Plurals — Oh My! 31
Chapter 5: Say What? Pronunciation and Usage 45
Part II: Mapping Words and Bodies 55
Chapter 6: As It Was in the Beginning: Prefixes 57
Chapter 7: So It Shall Be in the End: Suffixes 69
Chapter 8: Hey, I Know You: Word Recognition 75
Chapter 9: Deconstruction Junction: Breaking Down Words 85
Chapter 10: An Org Chart to Live By: Organization of the Body 95
Chapter 11: All Systems Go: When Systems Combine 109
Part III: In Terms of Anatomy 119
Chapter 12: Boning Up on the Skeletal System 121
Chapter 13: Getting Ripped: The Muscular System 139
Chapter 14: Skin Deep: Skin, Glands, Nails, and Hair 153
Chapter 15: It Depends on Your Perception: The Sensory Systems 167
Part IV: Let's Get Some Physiology Terminology 185
Chapter 16: The Hear t of the Mat ter: The Cardiovascular and Lymphatic Systems 187
Chapter 17: Just Breathe: The Respiratory System 211
Chapter 18: Feeding Time: The Gastrointestinal System 227
Chapter 19: Gatekeepers of Health: The Endocrine System 245
Chapter 20: Calming Down: The Nervous System 261
Part V: Name That Plumbing 275
Chapter 21: When You Gotta Go: The Urinary System 277
Chapter 22: Check the Plumbing: The Male Reproductive System 291
Chapter 23: A Life Force: The Female Reproductive System 305
Part VI: The Part of Tens 325
Chapter 24: Ten Essential Medical Terminology References 327
Chapter 25: Ten or So Useful Mnemonic Devices 331
Chapter 26: Ten Sets of Terminology Tongue-Twisting Diseases 335
Appendix: Prefixes and Suffixes 341
Index 345
See More
Beverley Henderson, CMT-R, HRT, has more than 40 years' experience in medical terminology and transcription. She developed course curricula and helped write and produce a series of medical terminology teaching videos. Jennifer Lee Dorsey has been a writer and editor for 18 years.
See More