Diabetes Cookbook For Dummies, 4th Edition
ISBN: 978-1-118-94426-4
408 pages
January 2015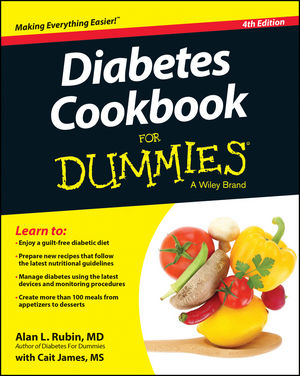 Discover how to eat a well-balanced diabetic diet
Diabetes Cookbook For Dummies gives you everything you need to create healthy and diabetic-friendly meals. In this revised and updated edition, you'll discover how easy it is to manage diabetes through diet. With tons of new recipes—many of them vegetarian—and the latest information on diabetes testing, monitoring, and maintenance, this book will help guide you down a path to a healthier you.
With an anticipated price tag close to $3.4 billion annually by the year 2020, diabetes is one of the costliest health hazards in the U.S. If you're one of the 25.8 million Americans suffering from diabetes, this hands-on, friendly guide arms you with the most up-to-date nutritional information and shows you how to start cooking—and eating—your way to better health.
Offers 100+ new and revised diabetic recipes for every meal of the day
Features changes in fat, carbohydrate, and protein recommendations that parallel the meal plan recommendations of the American Diabetes Association
Covers how to make smart choices when eating out, shopping for food, and setting up a diabetic kitchen
Introduces ways to involve diabetic children in meal planning and preparation
If you're diabetic and want to learn how to make lifestyle changes that count, Diabetes Cookbook For Dummies shows you how the food you eat can help treat, prevent, and manage diabetes.
See More
Introduction 1
Part I: Flourishing with Diabetes 5
Chapter 1: What It Means to Flourish with Diabetes 7
Chapter 2: How What You Eat Affects Your Diabetes 19
Chapter 3: Planning Meals for Your Weight Goal 37
Chapter 4: Eating What You Like 47
Chapter 5: How the Supermarket Can Help 61
Part II: Healthy Recipes That Taste Great 71
Chapter 6: The Benefits of Breakfast 73
Chapter 7: Hors d'Oeuvres and First Courses: Off to a Good Start 91
Chapter 8: The Benefits of Soup 109
Chapter 9: The Versatility of Salads 129
Chapter 10: Stocking Up on Grains and Legumes 153
Chapter 11: The Key Role of Vegetables 173
Chapter 12: Fish: Good Protein, Good Fat 205
Chapter 13: Poultry: Moist and Delicious 229
Chapter 14: Eating Meat Occasionally 243
Chapter 15: Snacking without Guilt 255
Chapter 16: Making Room for Dessert 271
Part III: Eating Healthy Away from Home 287
Chapter 17: Making Eating Out a Nourishing Experience 289
Chapter 18: Fast Food on Your Itinerary 299
Part IV: The Part of Tens 313
Chapter 19: Ten (Or So) Simple Steps to Change Your Eating Habits 315
Chapter 20: Ten Simple Steps to Adopting a Mediterranean Diet 323
Chapter 21: Ten Keys to a Normal Blood Glucose 333
Chapter 22: Ten Strategies for Teaching Kids Healthy Eating Habits 341
Part V: Appendixes 347
Appendix A: Restaurant Descriptions 349
Appendix B: Glossary of Key Cooking Terms 361
Appendix C: Conversion Guide 365
Appendix D: Other Recipe Sources for People with Diabetes 369
Index 373
See More
Dr. Alan L. Rubin
is one of the leading authorities on diabetes and the author of many books, including
Diabetes For Dummies, Type 1 Diabetes For Dummies
, and
Prediabetes For Dummies
.
Cait James, MS, has counseled clients in individualized nutrition and personal fitness plans in health clubs.
See More