E-book
iPad All-in-One For Dummies, 7th Edition
ISBN: 978-1-118-94442-4
544 pages
January 2015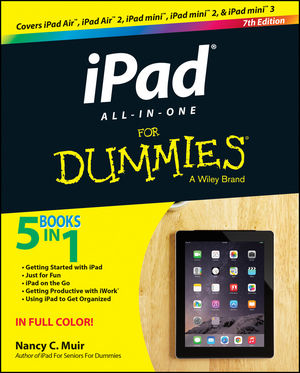 5 BOOKS IN 1
Getting Started with iPad
Just for Fun
iPad on the Go
Getting Productive with iWork®
Using iPad to Get Organized
Your one-stop guide to all things iPad
The iPad may be small, but it packs a big punch. This all-encompassing guide provides step-by-step guidance for iPad and iPad mini users looking to make the most of this small wonder—at home, at work, or on the go. Whether you're an iPad newbie or have been puttering around with it for a while, there's something inside for everyone!
For the uninitiated — pick the iPad model that's right for you and discover cool bling you can add to accessorize it
It's your iPad, you can play if you want to — explore the iTunes® store, preview, buy, and rent media, use iCloud to push purchases to all devices, and set up Family Sharing
Get connected — make your Wi-Fi and 3G/4G settings, tether your iPad to your smartphone, and sync content across devices
iWorking 9–5 — get familiar with the iWork for iOS apps, improve documents by adding photos and images, and manage your iWork documents like a pro
Open the book and find:
Guidance on which iPad model is right for you
Tips on using your iPad to buy content at iTunes and beyond
How to wipe data remotely if your iPad is lost or stolen
How to move files from your computer to your iPad
Tips for printing wirelessly from your iPad
Steps for setting up Touch ID and Apple Pay
How to share files via email, AirDrop®, or through the cloud
See More
Introduction 1
Book I: Getting Started with iPad 5
Chapter 1: Buying Your iPad 7
Chapter 2: Getting Started with iPad 19
Chapter 3: Making Your iPad More Accessible 45
Chapter 4: Overview of Bundled Apps 61
Chapter 5: Setting Up iTunes to Sync and Buy Apps 73
Chapter 6: Browsing the Web 95
Chapter 7: Working with Email in Mail 117
Chapter 8: Managing iPad Settings 139
Chapter 9: Maintaining and Troubleshooting 153
Book II: Just for Fun 167
Chapter 1: Buying Content at iTunes and Beyond 169
Chapter 2: Playing Music on Your iPad 183
Chapter 3: Watching Videos 197
Chapter 4: Getting the Most Out of iPad Cameras and FaceTime 207
Chapter 5: Getting Social with Twitter, Facebook, and iMessage 221
Chapter 6: Playing with the Photos App 233
Chapter 7: Using Your iPad as an E-reader 249
Chapter 8: Playing Games 273
Book III: iPad on the Go 287
Chapter 1: Configuring Your iPad to Connect Everywhere 289
Chapter 2: Finding Your Way with Maps 299
Chapter 3: Apps for Road Warriors 319
Book IV: Getting Productive with iWork 331
Chapter 1: Introducing the iWork for iOS Apps for iPad 333
Chapter 2: Pages Has a Way with Words 353
Chapter 3: Counting on Numbers 367
Chapter 4: Presenting Keynote 395
Book V: Using iPad to Get Organized 415
Chapter 1: Managing Files and Printing 417
Chapter 2: Making Notes 427
Chapter 3: Keeping On Schedule with the Calendar and Clock Apps 439
Chapter 4: Working with Reminders and Notifications 459
Chapter 5: Managing Contacts 471
Chapter 6: Talking to Your iPad with Siri 491
Index 503
See More
Nancy C. Muir is the author/co-author of more than 100 books. She has won awards from the Independent Booksellers Association and The Society for Technical Communication. Her experience includes working for and consulting with several major publishers on book series and strategies, as well as working in the software industry as a training manager. Nancy holds a Certificate in Distance Learning Design from the University of Washington.
See More