Software
Proceedings of 2nd International Congress on 3D Materials Science, 2014
ISBN: 978-1-118-94545-2
June 2014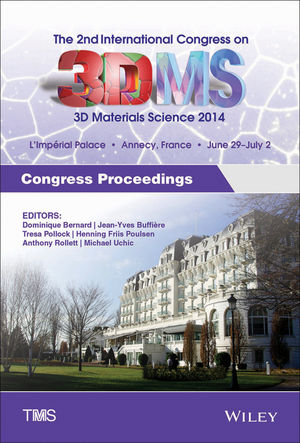 This CD contains a collection of papers presented at the 2nd International Congress on 3D Materials Science, an event  organized by The Minerals, Metals & Materials Society (TMS) and held in Annecy, France, June 29 to July 2, 2014. The conference provides the premier forum for presentations of current interest and significance to the three-dimensional characterization, visualization, quantitative analysis, modeling, and investigation of structure-property relationships of materials.

The 20 papers presented in the collection are divided into six sections: (1) Acquisition and Handling of
3D Data; (2) Microstructure/Property Relationship in 3D: Characterization and Simulation; (3) Microstructure/Property Relationship in 3D: Deformation and Damage; (4) New Experimental Techniques; (5) Analysis at the Nanoscale; and (6) Dynamic Processes. 
See More