Textbook
Precalculus: With Limits, 2nd Edition
ISBN: 978-1-118-94650-3
1280 pages
March 2014, ©2014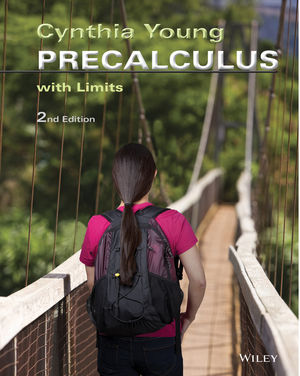 Engineers looking for an accessible approach to calculus will appreciate Precalculus, 2nd Edition. The book offers a clear writing style that helps reduce any math anxiety they may have while developing their problem-solving skills. It incorporates Parallel Words and Math boxes that provide detailed annotations which follow a multi-modal approach. Your Turn exercises reinforce concepts by allowing them to see the connection between the exercises and examples. A five-step problem solving method is also used to help engineers gain a stronger understanding of word problems
See More
New Applications Added: Applications to Economics, Business, Environmental Science, and Health have been added to each chapter to augment existing applications on Finance, Biology, and Chemistry.
Inquiry-Based Learning Projects added to every chapter! These projects actively involve students in the learning process, aiding in understanding and mastery of the material.
Revised and Enriched Exercise Sets Throughout & Updated "Technology Tips": Optional technology tips in the margin demonstrate how students can use technology to confirm analytic solutions.
NEW WileyPLUS Math Enhancements: a blend of conceptual and skills, the new Enhancements Graphing, "Intelligent Tutoring", Simplified Answer Recognition, Improvements to Show Work Whiteboard and improved correction process and computerized test back improvements
See More
Clear, Concise and Inviting Writing. The author's engaging and clear presentation is presented in a layout that is designed to reduce math anxiety in students.
Author Lecture Videos. For review at home or for a class missed, Cynthia Young has recorded over 270 instructional videos including worked examples and "Your Turn" problems from the text. These videos can be found in WileyPLUS and are denoted in the text with an icon.
WileyPLUS, accompanied with Young, Precalculus 2nd edition provides a research based, online environment for effective teaching and learning. WileyPLUS builds students' confidence because it takes the guesswork out of studying by providing students with a clear roadmap: what to do, how to do it, if they did it right.
Six Different Types of Exercises. Every chapter has Skill, Application, Catch the Mistake, Challenge, Conceptual, and Technology exercises. The exercises gradually increase in difficulty and vary skill and conceptual emphasis.
Correct vs. Incorrect. In addition to standard examples, some problems are worked both correctly and incorrectly to highlight common errors students make. Counter examples, like these, are often an effective learning approach for many students.
Catch the Mistake. In every section, 'Catch the Mistake' exercises put the students in the role of the instructor grading homework which increases the depth of understanding and reinforces what they have learned.
Your Turn. Students are often asked to work a problem immediately following an example to reinforce and check their understanding. This helps them build confidence as they progress in the chapter. These are ideal for in-class activity and preparing the student to work homework later.
Parallel Words and Math. This text reverses the common presentation of examples by placing the explanation in words on the left and the mathematics in parallel on the right. This makes it easier for students to read through examples as the material flows more naturally and as commonly presented in lecture.
Modeling Our World. Found in every chapter, these projects engage students by using real world data to model mathematical applications found in everyday life.
Chapter Cumulative Test. Included at the end of each chapter to assess and improve students' retention of material.
See More