E-book
Cloud Computing and Electronic Discovery
ISBN: 978-1-118-94744-9
208 pages
August 2014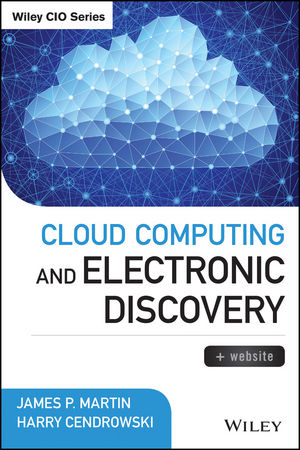 Explore the frontier of electronic discovery in the cloud
Cloud Computing and Electronic Discovery comprehensively covers the quickly-evolving realm of eDiscovery in cloud computing environments, a computing and legal frontier in which the rules and legal precedents are being developed anew seemingly by the day. The book delves into this fascinating and rapidly-developing topic to prepare fraud investigators, legal professionals, forensic accountants, and executives understand the ramifications of storing data with third party providers and how such storage mechanisms relate to the limits of discovery practices.
This up-to-date resource also includes a complete discussion of the few existing legal precedents and current cases that are shaping interpretation of discovery laws in the cloud space, a perfect overview for executives storing their companies' data in the cloud and the legal professionals tasked with understanding and interpreting the discovery rules surrounding that data. The book is comprehensive in scope and includes:
An overview of current trends in cloud computing, including potential information that should be considered in an investigation that involves data held by a cloud service provider
Updates on current and proposed laws governing discovery of information held by a third party cloud service provider
Updates on legal cases that address the issues of the Electronic Communication Privacy Act, the Federal law prohibiting release of information by a third party provider
Practical guidance on how to consider the availability of cloud data relevant to an investigation, and how to include this data in discovery plans
For business, accounting, and legal professionals, Cloud Computing and Electronic Discovery is an invaluable resource for understanding the nuanced development of cloud eDiscovery policies, practices, and law as they continue to unfold and develop.
See More
PREFACE xi
ACKNOWLEDGMENTS xiii
SECTION ONE—Cloud Computing: Basics of Technologies and Applications 1
CHAPTER 1 Cloud Computing Defi nitions and Technical Considerations 3
Christopher Thieda
IaaS 5
PaaS 9
SaaS 10
Considerations for Discovery 10
Data Transfer Regulations 12
Notes 15
CHAPTER 2 The Proliferation of Data Available for Discovery 17
James P. Martin and Harry Cendrowski
An Example of Third?]Party Data: Google Search Engine 19
Consideration of Data Points in Discovery 21
Creating an eDiscovery Plan in a Cloud?]Based World 25
Production of Cloud Data 27
Notes 28
CHAPTER 3 Cloud Migration and Planning for Retention 29
James P. Martin and Harry Cendrowski
Data Retention and the Cloud 29
Considerations for Litigation 34
Notes 36
SECTION TWO—Current Laws Affecting Discovery 37
CHAPTER 4 Brief History of Privacy and Selected Electronic Surveillance Laws 39
James P. Martin and Harry Cendrowski
Communications Act of 1934 40
Title III—Omnibus Crime Control and Safe Streets Act, 1968 42
Advancements in Telephone System Technologies 45
Electronic Communications Privacy Act of 1986 47
Notes 53
CHAPTER 5 Electronic Communications Privacy Act 55
James P. Martin and Harry Cendrowski
Title II—The Stored Communications Act 57
§2703—Required Disclosure of Customer Communication or Records 61
Backup Provisions 66
Electronic Storage and the Ninth Circuit 66
Pen Registers and Trap and Trace Devices 68
Production Demands and the ECPA 71
Notes 73
CHAPTER 6 Proposed Legislative Changes and Future Laws 75
James P. Martin
Points for Improvement 76
Congressional Action 77
Notes 78
CHAPTER 7 The Control Concept and Related Issues 79
Matthew P. Breuer and James Martin
The Application of Rule 34(a) 79
Rule 34(a) in Litigation 81
Flagg—A Modern Day Approach 86
Notes 88
CHAPTER 8 Current Issues in Cloud Data 91
James P. Martin and Matthew P. Breuer
Cell Tower Data and Location Information 91
StingRay and Location Monitoring 97
BYOD Policies and Data Ownership 100
Notes 102
CHAPTER 9 The Rise of Social Media and Its Role in Litigation 105
Sarah Marmor and Deirdre Fox
Roots of Social Media 105
Why, How, and When to Access Data on Social Media in Litigation 106

Obligations to Preserve Evidence 107
Accessing Social Media 108
Using Social Media in Litigation 115
Notes 120
SECTION THREE—Relevant Cases 131
CHAPTER 10 Modern Case Analysis Shaping Litigation 133
Matthew P. Breuer and James P. Martin
O'Grady v. Superior Court, 139 Cal.App.4th 1423 (2006) 133
Krinsky v. Doe 6, 72 Cal.Rptr.3d 231 (2008) 136
Flagg v. City of Detroit, 252 F.R.D. 346 (E.D. Mich 2008) 138
Warshak v. U.S., 631 F.3d 266 (6th Circ. 2010) 143
Ehling v. Monmouth-Ocean Hospital, 872
F.Supp.2d 369 (D.N.J. 2012) 146
Juror Number One v. California, 206 Cal.App. 4th 854 (2012) 148
Summary of Cases 150
Notes 153
CHAPTER 11 Cloud Computing and Reasonable Expectations of Privacy: Fourth Amendment Concerns 155
Matthew P. Breuer and James P. Martin
Ex Parte Jackson, 96 U.S. 727 (1877) 156
Olmstead v. United States, 277 U.S. 438 (1928) 158
Katz v. United States, 88 S.Ct. 507 (1967) 159
United States v. Miller, 425 U.S. 435 (1976) 160
United States v. Jacobsen, 466 U.S. 109 (1984) 163
United States v. Jones, 132 S.Ct. 945 (2012) 165
Summary of Cases 166
Notes 169
CHAPTER 12 Compelled Production of Cloud Computing Data: Fifth Amendment Concerns 171
Matthew P. Breuer and James P. Martin
United States v. Doe, 465 U.S. 605 (1984) 172
Doe v. United States, 487 U.S. 201 (1988) 174
United States v. Hubbell, 530 U.S. 27 (2000) 176
In re Boucher, 2009 WL 424718 (D. Vt. 2009) 178
In re Grand Jury Subpoena Duces Tecum, March 25, 2011, 670 F.3d 1335 (11th Circ. 2011) 180
Notes 183
ABOUT THE CONTRIBUTORS 185
ABOUT THE AUTHORS 187
ABOUT THE COMPANION WEBSITE 189
INDEX 191
See More
JAMES P. MARTIN, CMA, CIA, CFE, is Managing Director at Cendrowski Corporate Advisors.
HARRY CENDROWSKI, CPA, ABV, CGMA, CFF, CFE, CVA, CFD, MAFF, is President of Cendrowski Corporate Advisors and a frequent speaker on forensic accounting and litigation.
MARTIN and CENDROWSKI are the coauthors of the Handbook of Fraud Deterrence and Private Equity, Second Edition from Wiley and the coauthors of the industry newsletters The Fraud Files and Corporate Governance Edition.
See More