E-book
Real Estate Investing For Dummies, 3rd Edition
ISBN: 978-1-118-94822-4
408 pages
February 2015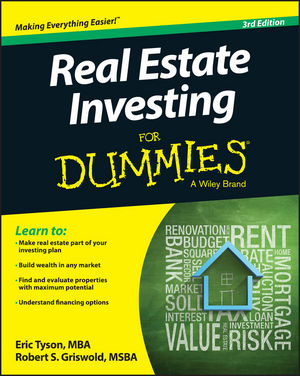 Everything you need to confidently make real estate part of your investing plan
Do you want to get involved in real estate investing, but aren't quite sure where to start? Real Estate Investing For Dummies is your go-to resource for making sense of the subject, offering plain-English, step-by-step explanations of everything you need to know to keep yourself one step ahead of the competition. Inside, you'll discover how to overcome the challenges of the market, take advantage of the opportunities in any real estate environment—including a down market—and so much more.
Written by industry experts Eric Tyson and Robert Griswold, this new edition of Real Estate Investing For Dummies offers proven, practical, and actionable advice for anyone who wants to invest in income-producing properties. With the help of this straightforward and time-tested information, you'll get the know-how to wisely and confidently make smart, sound, and informed real estate investing decisions that will reap big rewards.
Shows you how to make real estate part of your long-term investment plan
Provides tips on getting the best deals on financing
Offers trusted guidance on mastering the art of property valuation
Gives you access to unprecedented information on how to build wealth in any market
If you want to jump into the real estate market as a first-time investor or just want to brush up on recent changes that have occurred in the field, Real Estate Investing For Dummies is an essential resource you'll turn to again and again.
See More
Introduction 1
Part I: Getting Started with Real Estate Investing 5
Chapter 1: Evaluating Real Estate as an Investment 7
Chapter 2: Covering Common Real Estate Investments 23
Chapter 3: Considering Foreclosures, REOs, Probate Sales, and More 41
Chapter 4: Taking the Passive Approach 59
Chapter 5: Fast Money: Small Down Payments and Property Flips 75
Chapter 6: Building Your Team 83
Part II: How to Get the Money: Raising Capital and Financing 99
Chapter 7: Identifying Sources of Capital 101
Chapter 8: Financing Your Property Purchases 113
Chapter 9: Securing the Best Mortgage Terms 131
Part III: Finding and Evaluating Properties 139
Chapter 10: Location, Location, Value 141
Chapter 11: Understanding Leases and Property Valuation 171
Chapter 12: Valuing Property through Number Crunching 185
Chapter 13: Preparing and Making an Offer 211
Chapter 14: Due Diligence, Property Inspections, and Closing 229
Part IV: Operating the Property 265
Chapter 15: Landlording 101 267
Chapter 16: Protecting Your Investment: Insurance and Risk Management 301
Chapter 17: Recordkeeping and Accounting 311
Chapter 18: Looking at Tax Considerations and Exit Strategies 325
Part V: The Part of Tens 349
Chapter 19: Ten Ways to Increase a Property's Value 351
Chapter 20: Ten Steps to Real Estate Investing Success 359
Index 369
See More
Eric Tyson, MBA, is a nationally recognized personal finance counselor, syndicated columnist, and bestselling author of numerous For Dummies books. Robert S. Griswold , MSBA, is a successful real estate investor, hands-on property manager with a large portfolio of residential and commercial properties, and the author of Property Management Kit For Dummies and co-author of Landlord's Legal Kit For Dummies.
See More