E-book
Vietnam: Explaining America's Lost War, 2nd Edition
ISBN: 978-1-118-94901-6
240 pages
March 2015, Wiley-Blackwell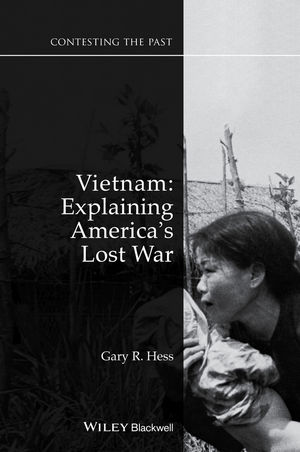 Now available in a completely revised and updated second edition,
Vietnam: Explaining America's Lost War
is an award-winning historiography of one of the 20
th
century's seminal conflicts.
Looks at many facets of Vietnam War, examining central arguments of scholars, journalists, and participants and providing evidence on both sides of controversies around this event
Addresses key debates about the Vietnam War, asking whether the war was necessary for US security; whether President Kennedy would have avoided the war had he lived beyond November 1963; whether negotiation would have been a feasible alternative to war; and more
Assesses the lessons learned from this war, and how these lessons have affected American national security policy since
Written by a well-respected scholar in the field in an accessible style for students and scholars
See More
Preface viii
1 From the Streets to the Books: The Origins of an Enduring Debate 1
2 A Necessary War or a Mistaken War? 23
3 "Kennedy Exceptionalism," "Missed Opportunity for Peace," or "Lost Victory?": The Movement toward War, 1961–1965 49
4 The Revisionist Critique of the "Strategy for Defeat": The Clausewitzian Alternative 84
5 The Revisionist Critique of the "Other War": The "Hearts?]and?]Minds" Prescription for Victory 111
6 The Media and the War: Irresponsible or Balanced Journalism? 133
7 The Tet Offensive: Decisive American Victory or Devastating Loss? 155
8 Nixon–Kissinger and the Ending of the War: A "Lost Victory" or "Neither Peace nor Honor?" 179
9 Conclusion: The War's "Lessons" 209
Bibliography 218
Index 221
See More
Gary R. Hess is Distinguished Research Professor of History at Bowling Green State University, where he taught for forty-five years. His publications include The United States at War, 1941–1945 (Wiley, 3rd edition, 2010), Presidential Decisions for War: Korea, Vietnam, the Persian Gulf, and Iraq (rev. ed., 2009), Vietnam and the United States: Origins and Legacy of War 1941–1945 (1998), and The United States' Emergence as a Southeast Asian Power (1987).
See More
More in this series