Bookkeeping For Dummies, 2nd Edition
ISBN: 978-1-118-95036-4
360 pages
December 2014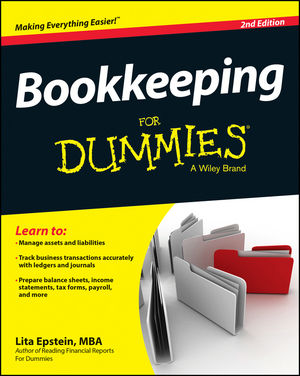 The fast and easy way to master the art of bookkeeping
If you're a business owner or an employee who manages finances, the latest edition of Bookkeeping For Dummies is for you. This handy guide gives you clear and concise information on how to keep track of accounts, prepare balance sheets, organize ledgers or journals, create financial statements, and so much more. Packed with the most up-to-date bookkeeping practices, tax information, and small-business laws, Bookkeeping For Dummies is an accessible, invaluable resource you'll turn to again and again.
Accurate and complete bookkeeping is crucial to any -business owner—but jumping in headfirst without knowing your accounts from your balance sheets can confuse even the most astute businessperson. That's where Bookkeeping For Dummies helps! Written in the familiar and friendly tone that has defined the For Dummies brand for more than twenty years, this clear and comprehensive guide covers everything you'll encounter as you set out to tackle your company's books, ensuring you're on the right track and saving you tons of headaches along the way. So what are you waiting for? It's time to hit the books!
Offers easy-to-follow instructions to keep track of your business' financial well-being
Covers managing assets and liabilities
Includes updated QuickBooks screenshots and Excel spreadsheets
Provides guidance on producing balance sheets and creating financial statements
Whether you're just starting out with bookkeeping—or a bookkeeper who needs to brush up on your skills—Bookkeeping For Dummies sets you up for success.
See More
Introduction 1
Part I: Basic Bookkeeping: Why You Need It 5
Chapter 1: So You Want to Do the Books 7
Chapter 2: Getting Down to Bookkeeping Basics 15
Chapter 3: Outlining Your Financial Road Map with a Chart of Accounts 27
Part II: Keeping a Paper Trail 41
Chapter 4: Ledgers: A One-Stop Summary of Your Business Transactions 43
Chapter 5: Keeping Journals 55
Chapter 6: Computer Options for Your Bookkeeping 71
Chapter 7: Controlling Your Books, Your Records, and Your Money 81
Part III: Tracking Your Day-to-Day Operations with Your Books 99
Chapter 8: Buying and Tracking Your Purchases 101
Chapter 9: Counting Your Sales 113
Chapter 10: Employee Payroll and Benefits 127
Chapter 11: Employer-Paid Taxes and Government Payroll Reporting 149
Part IV: Preparing the Books for Year's (or Month's) End 163
Chapter 12: Depreciating Your Assets 165
Chapter 13: Paying and Collecting Interest 175
Chapter 14: Proving Out the Cash 185
Chapter 15: Closing the Journals 199
Chapter 16: Checking Your Accuracy — By Trial and Hopefully No Error 211
Chapter 17: Adjusting the Books 221
Part V: Reporting Results and Starting Over 231
Chapter 18: Developing a Balance Sheet 233
Chapter 19: Producing an Income Statement 245
Chapter 20: Completing Year-End Payroll and Reports 259
Chapter 21: Satisfying the Tax Man 271
Chapter 22: Prepping the Books for a New Accounting Cycle 289
Part VI: The Part of Tens 297
Chapter 23: Top Ten Ways to Manage Your Business Cash with Your Books 299
Chapter 24: Top Ten Most Important Accounts for Any Bookkeeper 303
Appendix: Glossary 307
Index 311
See More
Lita Epstein, MBA, designs and teaches online courses in investing, finance, and taxes. She is the author of Trading For Dummies and Bookkeeping Workbook For Dummies.
See More