Digital SLR Cameras and Photography For Dummies, 5th Edition
ISBN: 978-1-118-95129-3
352 pages
October 2014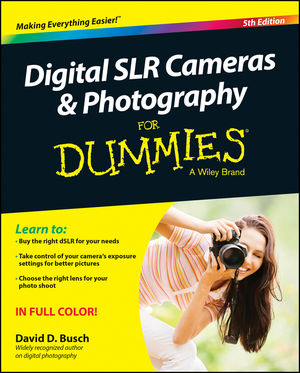 The perennial DSLR bestseller—now expanded with more photography tips
Digital SLR Cameras & Photography For Dummies has remained the top-selling book on DSLR photography since the first edition was published. Now in its Fifth Edition, itcovers the latest technologies in the world of DSLR cameras and photography to help you master the techniques that will take your digital photography skills to the next level. Written in plain English and complemented with full-color photos, this hands-on, friendly guide covers the mechanics of the camera; exposure, lenses, and composition; how to capture action, portrait, and low-light shots; editing and sharing images; tips for improving your digital photography skills; and much more.
Digital SLR cameras offer the mechanisms and flexibility of traditional pro-level cameras with the instant results and output of digital cameras. If you're a proud owner of a DSLR camera and want to take stunning shots that were once only achievable by the pros, this is the guide you need. Written by one of the most recognized authors in digital photography, this accessible resource makes it fast and easy to start capturing professional-quality photos.
Full-color format helps bring the information to life
Includes coverage of the latest DSLR cameras to hit the market
Provides a foundation on exposure settings, file formats, and editing photos
Offers expanded content on capturing the portraits, action shots, nature shots, and night shots photographers love to take
If you're interested in capturing more than just a "selfie" and truly want to hone the craft of digital SLR photography, Digital SLR Cameras and Photography For Dummies sets you up for success.
See More
Introduction 1
Part I: Getting Started with Digital SLR Cameras and Photography 5
Chapter 1: The Digital SLR Difference 7
Chapter 2: Safari Inside a dSLR 29
Chapter 3: Tracking the Ideal dSLR 53
Part II: Accessorizing Your Digital SLR 69
Chapter 4: Saving and Archiving Your Photos 71
Chapter 5: Gearing Up Your dSLR 79
Chapter 6: Mastering the Multi-Lens Reflex 93
Chapter 7: External Flash Lighting 111
Part III: Oh, Shoot! 121
Chapter 8: Taking Control of Your dSLR 123
Chapter 9: Movies and Special Features of dSLRs 143
Chapter 10: Action, Flash, and Other Challenges 159
Chapter 11: Composition and dSLRs 179
Chapter 12: Applied Techniques 199
Part IV: Fine-Tuning Your Output 211
Chapter 13: Working with RAW and Other Formats 213
Chapter 14: Fixing Up Your Images 231
Chapter 15: Hard Copies Aren't Hard 261
Part V: Part of Tens 271
Chapter 16: Ten Ways to Improve Your dSLR Photography 273
Chapter 17: Ten Things You Never Thought of Doing with Your Digital SLR 287
Chapter 18: Ten Online Showcases for Digital SLR Photography 303
Index 315
See More
David D. Busch is one of the most recognized authors in digital photography. His four editions of Digital SLR Cameras & Photography For Dummies have combined to sell over 300,000 copies. Prior to becoming a full-time author, David was a professional photographer and photojournalist.
See More