Vital Factors: The Secret to Transforming Your Business - And Your Life
ISBN: 978-1-118-95224-5
304 pages
October 2006, Jossey-Bass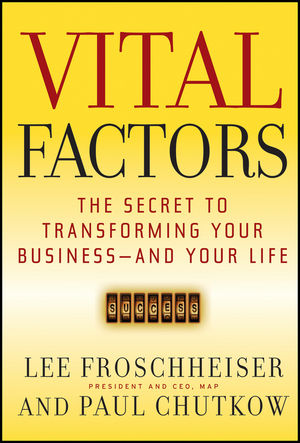 Praise for Vital Factors
"Each story in this book provides a real-world example of the importance of finding ways to continually focus on and perfect your vital factors as a means to be successful in business and in life.Vital Factors brings to life the MAP process to help you figure out what really matters as you seek to enhance your personal life or to transform your business."
—Kerry Killinger, chairman and CEO, Washington Mutual
"When I first became CEO I was inundated with constant interruptions and distractions. Then I discovered the MAP process. MAP forces you to focus on those core issues that drive an organization and eliminate the extraneous. Vital Factors shows the reader how to overcome these challenges through the stories of people who succeeded."
—John V. Shields, chairman emeritus, Trader Joe's Company
"Vital Factors brings to life the power of concrete concepts that create consistency and results.I entrenched myself in these MAP principles early in my career, and years later I used them to develop my leadership team and transform our organization."
—Joseph V. Haggerty, chief operating officer, United Way of America
"Vital Factors captures the winning formula to run any size business or organization. The real-world examples—provide insight that will help you grow as a leader and advance your career. It is mandatory for all of my senior leaders."
—David Berman, vice president of worldwide?sales and service, WebEx Communications, Inc.
"Vital Factors is a valuable tool for all leaders and teams. It has provided our organization with a simple disciplined process to transform our business from being 'action focused' to 'results focused.' Vital Factors is now part of our culture and used by every employee; the linkage to results is incredible. Focus, discipline, communication, and accountability are driving positive results!"
—Sharon Stein, senior vice president, Ceridian
See More
Foreword vii
by Barry Kemp
Our Mission ix
A Little Taste of What's Ahead xi
1 The Genius of MAP 1
2 The Awakening 19
3 Meaning and Purpose 32
4 Values 48
5 Passion and Commitment 61
6 Discipline and Accountability 75
7 Clear Communication 90
8 Strategic Alignment and Buy-In 108
9 The Big Red "S" 123
10 How to Build a Winning Team 139
11 Unearthing the Buried Jewels 163
12 Managing Creativity 179
13 Dramatic Results 202
14 The Life Plan 218
15 Bringing MAP Home 233
16 The Promised Land 247
Appendix: The MAP Management System's Monday Morning Action Plan 265
The Authors 273
Index 275
See More
Lee Froschheiser
is president and CEO of MAP. He has managed organizations in the private and public sectors, and as a coach and mentor, he has trained many of the premier business leaders in the United States today.
Paul Chutkow is the best-selling author of Visa:The Power of an Idea, Harvests of Joy, Depardieu,and Perrier: The Book.
See More