A Non-Freaked Out Guide to Teaching the Common Core: Using the 32 Literacy Anchor Standards to Develop College- and Career-Ready Students
ISBN: 978-1-118-95226-9
192 pages
September 2014, Jossey-Bass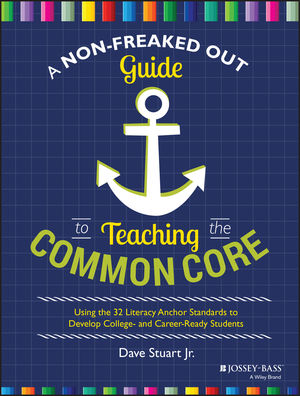 Implement the Common Core for ELA without all the stress
A Non-Freaked Out Guide to Teaching the Common Core uses the often-neglected anchor standards to get to the heart of the Common Core State Standards (CCSS)—teaching students the skills they need to be college and career ready. Each anchor standard is broken down into its key points, and a discussion of each anchor standard's central purpose helps outline the context for each required skill. This easy-to-read guide gives educators the kind of clear explanations, examples, and strategies they need to feel comfortable teaching the CCSS, and shows how CCSS skills can be integrated into virtually any existing lesson plan.
Getting a firm grasp of the anchor standards is the quickest way to start teaching the key concepts of the CCSS, and this user-friendly guide is designed to pave the way for both the first-time teacher and the experienced pro.
See More
Preface xiii
Acknowledgments xv
About the Author xix
Introduction 1
An Epic Journey Beckons 1
A Sword for Your Quest 2
This Book Is Like a Taco 3
A Final Note before Diving In 5
PART I: FOUNDATIONS
CHAPTER 1: What Is the Central, Burning Question of the Common Core State Standards? 9
What's an Anchor Standard? 10
Why Call Them "Anchors"? 11
Why Not Just Use the Grade-Specific Standards? 11
CHAPTER 2: The Common Core's Broadest Answer to Its Central, Burning Question 13
Demonstrate Independence 14
Build Strong Content Knowledge 14
Respond to Task, Audience, Purpose, and Discipline 15
Comprehend as Well as Critique 15
Value Evidence 16
Use Technology Strategically and Capably 16
Come to Understand Other Perspectives and Cultures 17
PART II: THE ANCHOR STANDARDS IN READING RCCR1 21
Read Closely 21
Determine Literal, Explicit Meaning 23
Make Logical Inferences 23
Support Conclusions with Textual Evidence 24
RCCR2 26
Decide on What's Central 26
Pull Apart How That Central Thing Is Developed 27
Summarize the Text 28
RCCR3 30
How Do Individuals, Events, or Ideas Develop and Interact over the Course of a Text? 30
Why Do Individuals, Events, or Ideas Develop and Interact over the Course of a Text? 31
RCCR4 33
Interpret Words and Phrases 33
Analyze Word Choice 35
RCCR5 38
Structure and Interconnectedness in Novels 38
Structure and Interconnectedness in Articles 39
Structure and Interconnectedness in Poems 40
Structure and Interconnectedness in Primary Source Documents 41
Structure and Interconnectedness in Textbooks 42
RCCR6 43
Point of View 43
Purpose 44
How Do Point of View and Purpose Shape Literary Texts? 44
How Do Point of View and Purpose Shape an Informational Text? 45
RCCR7 47
Evaluate Content 47
Evaluate Diverse Content 48
Integrate It All 49
RCCR8 51
Delineating an Argument: Four Key Parts 51
Evaluating an Argument 52
RCCR9 54
Read Related Texts 54
Read Related Texts to Build Knowledge 55
Read Related Texts to Compare Authorial Approaches 56
RCCR10 57
Read and Comprehend Grade-Appropriate Complex Texts 57
Profi ciently Read Both Informational and Literary Texts 62
PART III: THE ANCHOR STANDARDS IN WRITING WCCR1 67
Why Is Argumentative Writing First? 67
So, What's an Argument, According to the Common Core? 68
Make a Claim about a Substantive Topic or Text 69
Support That Claim with Relevant and Sufficient Evidence 70
Tie It All Together with Valid Reasoning 71
WCCR2 75
How Does the Common Core Defi ne Informative/Explanatory Texts? 75
What Genres Fall under the Umbrella Genre of Informative/Explanatory Writing? 76
How Does Informative/Explanatory Writing Differ from Argumentative Writing? 77
Select, Organize, and Analyze Content 78
Maintain Accuracy and Clarity 78
WCCR3 80
How Does the Common Core Define Narrative Writing? 80
Develop Real or Imagined Experiences 81
Use Well-Chosen Details 81
Use Well-Structured Event Sequences 82
Use Effective Technique 82
How Should the Three Common Core Modes of Writing Be Balanced? 82
WCCR4 85
Task 85
Audience 86
Purpose 86
WCCR5 88
The Not-So-Sexy Parts of the Writing Process 88
Plan 88
Revise 89
Edit 90
Rewrite or Try a New Approach 90
WCCR6 92
"We Bought iPads, and Now We're Common Core Aligned!"  92
Produce and Publish Writing with Technology 93
Interact and Collaborate with Others through Technology 96
WCCR7 99
Conduct Research Projects of Varying Length 99
Focus Your Research Questions 100
Demonstrate Newfound Understandings 101
WCCR8 103
Gather Relevant Info from Multiple Sources 103
Assess the Credibility and Accuracy of Sources 104
Integrate Information without Plagiarizing 105
WCCR9 107
Back Up Stuff with Evidence 107
WCCR10 109
Write Like Crazy 109
Write for Lots of TAPs 110
PART IV: THE ANCHOR STANDARDS IN SPEAKING AND LISTENING SLCCR1 115
Come to Conversations Prepared 115
Converse Effectively with Anyone on the Planet 116
Build on Others' Ideas and Clearly, Persuasively Express Your Own 116
SLCCR2 119
How Do I Integrate Information from a Given Source? 119
When Do I Integrate Information from a Given Source? 120
SLCCR3 122
What Are the Strengths and Limitations of This Speaker's Point of View? 122
What Are the Strengths and Limitations of This Speaker's Use of Evidence and Reasoning? 123
What Are the Strengths and Limitations of This Speaker's Use of Rhetoric? 124
SLCCR4 125
Begin with TAP 125
Create a Presentation That Listeners Can Follow 126
SLCCR5 129
Strategic Use 129
 of Digital Media and Visual Displays of Data 129
SLCCR6 132
Adapt for Context 132
Demonstrate Formal English When Appropriate 132
PART V: THE ANCHOR STANDARDS IN LANGUAGE LCCR1 137
A Note on the Intertwining Nature of LCCR1–3 137
Grammar and Usage: The Focus of LCCR1 139
LCCR2 141
Capitalize Correctly 141
Punctuate Perfectly 141
Spell Superbly 142
LCCR3 143
Using the Grade-Specifi c Requirements to Gain a Deeper Understanding of the Anchor 143
How Does Language Function in Different Contexts? 144
How Do I Use Language to Communicate and Comprehend Effectively? 145
LCCR4 146
Use Context Clues 146
Analyze Word Parts 146
Use References 147
LCCR5 148
Meaning One Thing, Saying Another 148
LCCR6 150
Effectively Acquire and Use a Range of General Academic and Domain-Specific Vocabulary 150
Independently and Strategically Gather Knowledge When Faced with an Important Unknown Word 152
CONCLUSION: One Non–Freaked Out Approach to Implementing the Standards 155
Regularly Grapple with Grade-Level Complex Texts 156
Go Big on Argument 157
Ensure That Every Student Speaks, Every Day 157
Write Like Crazy 158
Teach Grit and Self-Control 159
What Will You Start With? 160
APPENDIX: All Anchors on a 2-Page Spread 162
Works Cited 164
Index 168
See More
DAVE STUART JR. teaches English and world history in Cedar Springs, Michigan. He also writes a popular blog on teaching the Common Core State Standards, called Teaching the Core (www.teachingthecore.com). With over ten thousand monthly readers, Dave's blog has been a beacon of light for teachers who refuse to freak out about the Common Core. He also speaks and gives workshops on literacy instruction, and he has served as an adjunct professor at Aquinas College.
See More