A Short History of U.S. Interventions in Latin America and the Caribbean
ISBN: 978-1-118-95399-0
240 pages
March 2016, Wiley-Blackwell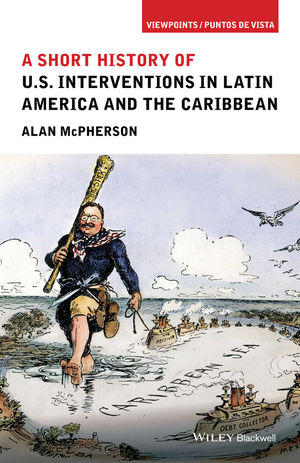 A Short History of U.S. Interventions in Latin America and the Caribbean
presents a concise account of the full sweep of U.S. military invasions and interventions in Central America, South America, and the Caribbean from 1800 up to the present day.
Engages in debates about the economic, military, political, and cultural motives that shaped U.S. interventions in Cuba, Nicaragua, Puerto Rico, Haiti, the Dominican Republic, Panama, Guatemala, Mexico, and elsewhere
Deals with incidents that range from the taking of Florida to the Mexican War, the War of 1898, the Veracruz incident of 1914, the Bay of Pigs, and the 1989 invasion of Panama
Features also the responses of Latin American countries to U.S. involvement
Features unique coverage of 19th century interventions as well as 20th century incidents, and includes a series of helpful maps and illustrations
See More
Series Editor's Preface viii
Acknowledgments x
List of Illustrations xi
Introduction: Topic and Themes 1
1 Expanding the Continental Republic, 1811–1897 10
2 The Cuban Crucible: Experiments in Overseas Empire, 1898–1922 34
3 Monopolizing the Central American Isthmus, 1903–1926 55
4 Wilsonian Interventions, 1913–1919 72
5 Accommodation and Resistance, 1917–1930 95
6 From Occupier to Good Neighbor, 1921–1936 115
7 Warding Off Global Ideologies, 1935–1954 133
8 Containing Revolution, 1959–1990 148
9 Identifying Post ]Cold War Political Threats, 1986–2016 172
Conclusion: Multitudes of Interventions 194
Bibliography 202
Index 209
See More
Alan McPherson is Professor of International and Area Studies, ConocoPhillips Chair in Latin American Studies, and Director of the Center for the Americas at the University of Oklahoma. He has published eight books, including the prize-winning Yankee No! Anti-Americanism in U.S.-Latin American Relations (2003) and The Invaded: How Latin Americans and their Allies Fought and Ended U.S. Occupations (2014).
See More
More in this series