Critical and Creative Thinking: A Brief Guide for Teachers
ISBN: 978-1-118-95537-6
264 pages
September 2015, Wiley-Blackwell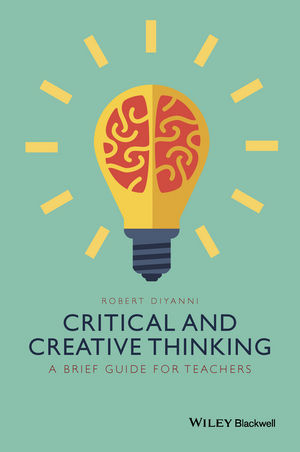 Critical and Creative Thinking: A Guide for Teachers
reveals ways to develop a capacity to think both critically and creatively in practical and productive ways.
Explains why critical and creative thinking complement each other with clear examples
Provides a practical toolkit of cognitive techniques for generating and evaluating ideas using both creative and critical thinking
Enriches the discussion of creative and critical intersections with brief "inter-chapters" based on the thinking habits of Leonardo da Vinci
Offers an overview of current trends in critical and creative thinking, with applications across a spectrum of disciplines
See More
Preface xi
Acknowledgments xiii
About the Website xv
Part One Introducing Critical and Creative Thinking
1 Essential Critical Thinking Concepts 3
What Is Critical Thinking? 4
Habits of Mind 5
Why Intellectual Habits and Character Matter 7
Overcoming Obstacles to Thinking 8
A Model for Critical Thinking 13
How You KnowWhat You Know 14
Perception and Knowledge 15
Being Wrong 23
Why Errors Persist 25
Applications 27
References 30
Interchapter 1 Facts and Knowledge 32
2 Essential Creative Thinking Concepts 36
What Is Creative Thinking? 37
Seeking Alternatives and Possibilities 38
Reversing Relationships 41
Cross-fertilizing 42
Shifting Attention 42
Denying the Negative 43
The Creative Habit 46
Creative Confidence 48
Creative Theft 49
Creative Crime 51
Creative Questions 52
Applications 56
References 58
Interchapter 2 Sustaining Curiosity 60
Part Two Practicing Critical and Creative Thinking
3 Becoming a Critical and Creative Thinker 65
Becoming a Critical Thinker 66
Intellectual Standards as Guidelines for Critical Thinking 67
Language and Thought 67
Reports, Inferences, and Judgments 69
The Prevalence and Power of Metaphor 74
Innovating through Analogy 78
Becoming a Creative Thinker 79
Developing the Creative Habit 80
Focus 83
Solo and Group Creativity 85
Concepts as Cognitive Tools 87
Applications 90
References 95
Interchapter 3 Embodying Experience 96
4 Critical Thinking Strategies and Applications 101
The Nature of Argument 102
Claims, Evidence, and Assumptions 102
Evidence: Claims and Warrants 105
Inductive and Deductive Reasoning 106
Sherlock Holmes as a Logical Thinker 109
Syllogisms, Enthymemes, and Argument 112
Argument and Authority 113
Argument and Analogy 114
Argument and Causality 116
Causality, Coincidence, and Correlation 120
Further Causal Consequences 122
Applications 123
References 129
Interchapter 4 Blending Art and Science 130
5 Creative Thinking Strategies and Applications 133
Imagination First 134
Imagination, Creativity, and Innovation 135
The Limits of Imagination 136
Capacities for Imaginative Thinking 137
Why Ideas Are Important 139
How to Get Ideas 140
Creative Whacks 147
Being Practical/What Iffing 153
Combining Things 156
Using Paradox 157
Thinking the Unthinkable 160
Applications 161
References 164
Interchapter 5 Combining Connections 166
Part Three Applying Critical and Creative Thinking
6 Decision Thinking: Making Critical Decisions 173
Making Decisions 174
Affective Forecasting 180
Achieving Insights that Affect Decisions 184
Institutional Decisions 186
Incentives and Decisions 188
Decisiveness 189
Making Tough Decisions 192
Making Group Decisions 194
Applications 195
References 198
Interchapter 6 Embracing Ambiguity 200
7 Ethical Thinking: Making Ethical Decisions 205
Basic Ethical Concepts 206
Ethics, Values, and Virtues 209
Ethical Imagination 213
Cosmopolitanism and Global Ethics 218
Technology and Ethics 220
The Ethics of Information 222
Ethical Decisions 224
Ethical Provocations 225
Applications 227
References 231
Index 233
See More
Robert DiYanni is Adjunct Professor of Humanities at New York University. He has authored or edited a variety of books, including Literature: An Introduction, The Scribner Handbook for Writers, Occasions for Writing, Arts and Culture: An Introduction to the Humanities, and Modern American Poets: Their Voices and Visions.
See More
"An inventive and useful guide to higher order thinking—essential reading for every educator and for those with inquiring minds."
Joan Weber, Scarsdale School District
"An essential guide for anyone interested in expanding their toolkit of creative and critical thinking strategies and skills. DiYanni's book delivers thoughtful, organized, and practical information and advice that should be required reading for all educators, future young leaders, and students alike."
Theresa Jen, University of Pennsylvania
See More