Transformational Literacy: Making the Common Core Shift with Work That Matters
ISBN: 978-1-118-96223-7
336 pages
August 2014, Jossey-Bass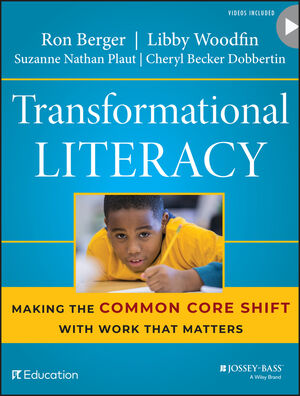 Engage, challenge, and inspire students with work that matters
Transformational Literacy, written by a team from EL Education, helps teachers leverage the Common Core instructional shifts—building knowledge through content-rich nonfiction, reading for and writing with evidence, and regular practice with complex text—to engage students in work that matters. Worthy texts and worthy tasks help students see the connection between their hard work as readers and writers and their capacity to contribute to stronger communities and a better world.
The stories, examples, and resources that permeate Transformational Literacy come primarily from the more than 150 EL Education schools around the country that support teachers to select, supplement, customize, and create curriculum, and improve instruction. The book also draws on EL Education's open source Common Core English Language Arts curriculum—often cited as one of the finest in the country—and professional development offered to thousands of teachers to implement that curriculum effectively.
Transformational Literacy combines the best of what EL Education knows works for kids—purposeful, inquiry-based learning—and the new imperative of the Common Core—higher and deeper expectations for all students.
Teach standards through a compelling and purposeful curriculum that prioritizes worthy texts and worthy task
Improve students' evidence-based reading, thinking, talking, and writing
Support students to develop a new mindset toward the challenge of reading complex texts
Transformational Literacy introduces an approach to literacy instruction that will engage, challenge, and inspire student with work that matters.
See More
DVD Contents vii
Preface xi
Acknowledgments xiii
About the Authors xv
About EL Education xix
Introduction: Embracing Challenge 1
PART 1 UNLOCKING THE POWER OF INFORMATIONAL AND LITERARY TEXTS 13
Part 1 Introduction 14
1 Choosing Worthy Texts 21
2 Bringing Text to Life 47
Part 1 Conclusion 65
PART 2 READING FOR AND WRITING WITH EVIDENCE 73
Part 2 Introduction 74
3 Evidence-Based Reading, Th inking, Talking, and Writing 85
4 From Deep Understanding to High-Quality Written Work 113
5 Building Strong Writers with Models, Critique, and Descriptive Feedback 143
Part 2 Conclusion 167
PART 3 SUPPORTING ALL STUDENTS TO SUCCEED WITH COMPLEX TEXTS 175
Part 3 Introduction 176
6 Creating the Conditions for Success with Complex Texts 183
7 Helping Students Read Closely 201
Part 3 Conclusion 231
Conclusion: Leveraging the Common Core for Schoolwide Improvement 239
References 253
Appendix A Informational Text Resources 257
Appendix B Photograph Resources 261
Appendix C Helpful Terms for Reading for and Writing with Evidence 263
Appendix D Qualitative Text Rubrics 265
Appendix E Primary Source Close Reading Guide 267
Appendix F Deeper Lessons Tool 271
Appendix G Questions for Discussion 275
Appendix H Accessing the Bonus Web Materials 285
Index 287
How to Use the DVD 295
See More
Ron Berger, chief academic officer for EL Education, taught public school for more than twenty-five years.
Libby Woodfin, a former teacher, is director of publications for EL Education.
Suzanne Nathan Plaut, a former high school English teacher, serves as the director of curriculum design for EL Education.
Cheryl Becker Dobbertin, program director for EL Education, is a former teacher and building administrator.
See More