E-book
Digital Literacy For Dummies
ISBN: 978-1-118-96287-9
456 pages
October 2014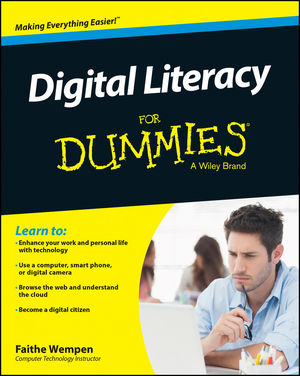 Develop and implement essential computer technology—with confidence
Do you want to develop an understanding of technology to enhance your education, career, or personal life, but feel inhibited by your digital literacy? Fear not! Written in plain English and absent of undecipherable high-tech jargon, Digital Literacy For Dummies makes it easy to get a grip on computer basics, the Internet, the Cloud, browsing the web, productivity programs and applications for school and the workplace, computer security and privacy, the latest in digital lifestyle topics, and so much more.
Walks you through the basics of developing essential computer technology skills
Shows you how to gain the digital literacy skills required to succeed in education, at home, and in the workforce
Explains how the use of smartphones and digital cameras contribute to digital literacy
With the introduction of 3G and 4G services in emerging countries like India, worldwide Internet usage is increasing exponentially. With this technological growth comes an opportunity for people of all ages and from all walks of life to learn new skills to keep them ahead of the curve. Packed with easy-to-follow explanations and seasoned with a bit of humor and fun, Digital Literacy For Dummies makes it easy and accessible for anyone to harness the power of technology to remain relevant in school or at work.
See More
Introduction 1
About This Book 2
Foolish Assumptions 3
Icons Used in This Book 4
Beyond the Book 4
Where to Go from Here 5
Part I: Computer Basics 7
Chapter 1: It's a Digital World 9
Chapter 2: Buying and Setting Up a Computer 25
Chapter 3: Understanding Operating Systems 45
Chapter 4: Windows 8.1 Basics 55
Part II: The Online Experience 87
Chapter 5: Understanding Internet Basics 89
Chapter 6: Working with the Web 99
Chapter 7: Sending and Receiving Email 117
Chapter 8: Clouds and Online Communication 137
Part III: Productivity Programs 151
Chapter 9: Understanding Applications 153
Chapter 10: Creating Personal Documents with Microsoft Word 173
Chapter 11: Managing and Calculating Data with Microsoft Excel 211
Chapter 12: Creating Presentations with Microsoft PowerPoint 239
Chapter 13: Storing and Retrieving Data with Microsoft Access 261
Part IV: Digital Security and Privacy 279
Chapter 14: Protecting Your Computer and Data from Harm 281
Chapter 15: Safeguarding Your Privacy 301
Part V: Mobility and Multimedia 323
Chapter 16: Expanding Computing to Other Devices 325
Chapter 17: Digital Cameras and Photography 337
Chapter 18: Working with Music and Video 361
Part VI: The Part of Tens 393
Chapter 19: Ten Computer Problems (and How to Solve Them) 395
Chapter 20: Ten Tips for Working with Windows 8.1 407
Appendix: Making a Living in Digital Technology 421
Index 429
See More
Faithe Wempen is an adjunct instructor at Indiana University Purdue University at Indianapolis (IUPUI). She is the author of over 150 books on computer hardware and software, and an online technology courseware developer whose courses have educated over a quarter of a million people.
See More