Electricity from Sunlight: Photovoltaic-Systems Integration and Sustainability, 2nd Edition
ISBN: 978-1-118-96380-7
336 pages
March 2018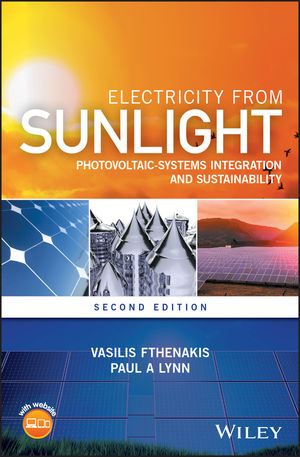 Praised for its visual appeal, conversational style and clear explanation of complex ideas with minimal mathematics, Electricity from Sunlight has been thoroughly revised and updated to reflect advances in the global PV market, economics and installed capacity.
Key features of the 2nd edition include:
A timely update of the advances of photovoltaics (PV), with major new material on grid-connected systems.
More in-depth treatment of PV scientific principles, solar cells, modules, and systems.
Up-to-date coverage of the PV market including conversion efficiencies and the expansion of grid-friendly power plants.
End-of-chapter questions to support instructors and students through guided self-study.
New chapters on manufacturing processes and on materials and other resources availability.
New large-scale PV section covering the growth of global capacity, utility-scale PV and affordable solutions for intermittency.
Systems analysis of new applications empowered by low-cost PV, such as energy storage and water desalination.
Significantly expanded economics and environmental section explaining leveled cost of electricity versus upfront costs, energy return on investments, and lifecycle analysis.
Electricity from Sunlight: Photovoltaics Systems Integration and Sustainability, Second Edition is an essential primer for new entrants to the PV industry, needing a basic appreciation of complete PV systems, and to students on undergraduate and graduate courses on renewable energy and photovoltaics. It also offers a unique treatise of the sustainability of emerging transformative technologies, which makes it useful to both system analysts and energy policy strategists.
See More
Vasilis Fthenakis, Center for Life Cycle Analysis (CLCA), Department of Earth & Environmental Engineering, Columbia University, New York, USA
Vasilis Fthenakis, the founder and director of the CLCA, also leads the National PV Environmental Health and Safety (EHS) Research Center operating at Brookhaven National Lab (BNL). He specializes in the area of PV and the environment and his current research is focused on: recycling, life-cycle environmental impact analysis, air pollution prevention and control, and modeling of accidental chemical releases. Vasilis Fthenakis has authored one book and numerous conference proceedings, book chapters and journal articles.

Paul A. Lynn, formerly Imperial College London, UK
Paul Lynn obtained his BSc (Eng) and PhD degrees from Imperial College London. After several years in the electrical/electronics industry he lectured at Imperial College and the University of Bristol. In 1993 he became the Founding Managing Editor of the successful Wiley journal Progress in Photovoltaics and held this position until 2006. As a retired academic, Paul Lynn's continued interest in renewable energy includes designing and building solar-powered boats. Paul Lynn has written six technical books to date and is the author of over 50 technical papers and articles.
See More