Photoshop Elements 13 For Dummies
ISBN: 978-1-118-96464-4
448 pages
September 2014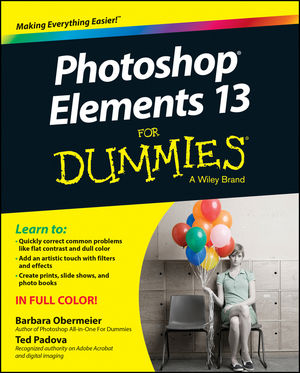 Take your photos from "meh" to "wow!" with Photoshop Elements 13 and this expert guide
Photoshop Elements 13 For Dummies is your guide to picture perfection using Adobe's Photoshop Elements. This full-color manual walks you through the process of photo editing, from basic color corrections to advanced filter effects, drawing, and more. Work through from beginning to end for a complete lesson, or keep it handy as a quick reference for unfamiliar tools and techniques. Designed for beginner and intermediate Photoshop Elements users, this book provides straightforward instruction in a fun, richly illustrated, easy-to-read style that makes learning feel like play.
Combining powerful tools with a user-friendly interface has made Photoshop Elements the number-one selling photo editing software. Photoshop Elements 13 For Dummies shows you how to take advantage of everything the software has to offer, helping you create high-quality images for print, e-mail, and the web. Even with no digital image editing experience at all, you'll learn how to take your photos from bland to beautiful and have a blast along the way.
Adjust resolutions, color modes, and file formats to best suit the project
Work with layers, filters, effects, styles, type, and more
Correct color, contrast and clarity for a simple photo makeover
Optimize for print, or share on Facebook, Flickr, and other social networks
The power and simplicity of Photoshop Elements makes it the perfect solution for amateurs seeking an affordable digital editing platform. The quicker you learn the tools, the sooner you'll be turning out photos to brag about – and Photoshop Elements 13 For Dummies will get you there in a flash.
See More
Introduction 1
Part I: Getting Started with Photoshop Elements 13 5
Chapter 1: Getting Started with Image Editing 7
Chapter 2: Basic Image-Editing Concepts 25
Chapter 3: Exploring the Photo Editor 55
Part II: Managing Media 79
Chapter 4: Navigating the Organizer 81
Chapter 5: Organizing Your Pictures 99
Chapter 6: Viewing and Finding Your Images 121
Part III: Selecting and Correcting Photos 139
Chapter 7: Making and Modifying Selections 141
Chapter 8: Working with Layers 171
Chapter 9: Simple Image Makeovers 193
Chapter 10: Correcting Contrast, Color, and Clarity 227
Part IV: Exploring Your Inner Artist 259
Chapter 11: Playing with Filters, Effects, Styles, and More 261
Chapter 12: Drawing and Painting 299
Chapter 13: Working with Type 325
Part V: Printing, Creating, and Sharing 345
Chapter 14: Getting It on Paper 347
Chapter 15: Sharing Your Work 363
Chapter 16: Making Creations 379
Part VI: The Part of Tens 391
Chapter 17: Ten Tips for Composing Better Photos 393
Chapter 18: Ten More Project Ideas 399
Index 405
See More
Barbara Obermeier is principal of Obermeier Design, a California-based design studio, and a faculty member at Brooks Institute. Ted Padova is an internationally-recognized authority on Adobe Acrobat, PDF, and digital imaging.
See More