The Wiley Blackwell Companion to the Qur'an, 2nd Edition
ISBN: 978-1-118-96480-4
688 pages
May 2017, Wiley-Blackwell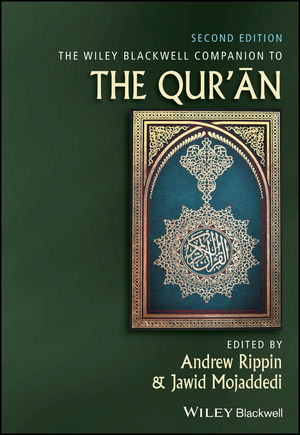 Fully revised and updated, the second edition of The Wiley Blackwell Companion to the Qur'ān offers an ideal resource for anyone who wishes to read and understand the Qur'ān as a text and as a vital component of Muslim life. While retaining the literary approach to the subject, this new edition extends both the theological and philosophical approaches to the Qur'ān.
Edited by the noted authority on the Qur'ān, Andrew Rippin, and Islamic Studies scholar Jawid Mojaddedi, and with contributions from other internationally renowned scholars, the book is comprehensive in scope and written in clear and accessible language. New to this edition is material on modern exegesis, the study of the Qur'ān in the West, the relationship between the Qur'ān and religions prior to Islam, and much more.
The Wiley Blackwell Companion to the Qur'ān is a rich and wide-ranging resource, exploring the Qur'ān as both a religious text and as a work of literature.
See More
List of Contributors viii
Preface xi
Andrew Rippin
Introduction 1
Jawid Mojaddedi
Part I Orientation 5
1 Introducing 7
Tamara Sonn
2 Discovering 23
Christopher Buck
3 Contextualizing 43
Abdullah Saeed
Part II Text 59
4 Linguistic Structure 61
Salwa El‐Awa
5 Patterns of Address 82
Rosalind Ward Gwynne
6 Language 97
Mustansir Mir
7 Poetry and Language 117
Navid Kermani
8 Foreign Vocabulary 130
Michael Carter
9 Structure and the Emergence of Community 151
Angelika Neuwirth
10 Sacrality and Collection 171
Aliza Shnizer
11 Written Transmission 184
François Déroche
12 Context: Muḥammad 200
Herbert Berg
13 Context: ʿUmar b. al‐Khaṭṭāb 218
Avraham Hakim
Part III Content 235
14 God 237
Andrew Rippin
15 Prophets and Prophethood 248
Uri Rubin
16 Moses 262
Brannon Wheeler
17 Abraham 280
Carol Bakhos
18 Jesus 288
Gordon Nickel
19 Biblical Background 303
Gabriel Said Reynolds
20 Other Religions 320
Mun'im Sirry
21 Argumentation 333
Kate Zebiri
22 Knowing and Thinking 349
A. H. Mathias Zahniser
23 Sex, Sexuality, and the Family 365
Khaleel Mohammed
24 Jihād 376
Reuven Firestone
Part IV Interpretation 389
25 Hermeneutics: al‐Thaʿlabı 391
Walid Saleh
26 Stories of the Prophets 406
Marianna Klar
27 Ṣūfism 418
Alan Godlas
28 Rūmı 430
Jawid Mojaddedi
29 Ibn al‐ʿArabı 442
Binyamin Abrahamov
30 Twelver Shıʿı Taʾwıl 449
Diana Steigerwald
31 Ismāʿılı Taʾwıl 463
Diana Steigerwald
32 Modern and Contemporary Interpretation of the Qurʾān 479
Johanna Pink
Part V Application 493
33 Exegetical Sciences 495
Jane Dammen McAuliffe
34 Theology 512
Binyamin Abrahamov
35 Jurisprudence 526
A. Kevin Reinhart
36 Contemporary Ethical Issues 543
Leah Kinberg
37 Narrative Literature 562
Roberto Tottoli
38 Recitation 577
Anna M. Gade
Bibliography 591
Index of People, Places and Topics 632
Index of Qurʾān Verses 651
See More
Andrew Rippin (d. 2016) was the Emeritus Professor of Islamic History at the University of Victoria, Canada. He was one of the world's leading scholars on the Qur'ān.
Jawid Mojaddedi is Professor of Religion at Rutgers University in New Jersey, USA. He is a leading scholar of Ṣūfism with a focus on Rūmī.
See More
More in this series