The Student's Companion to Social Policy, 5th Edition
ISBN: 978-1-118-96597-9
600 pages
August 2016, Wiley-Blackwell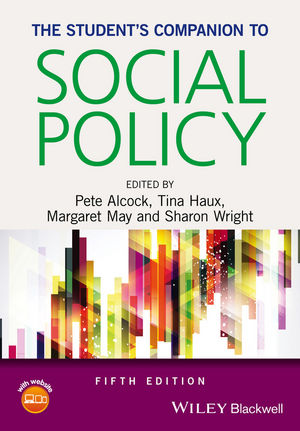 This fully updated and expanded edition of the bestselling Student's Companion to Social Policy charts the latest developments, research, challenges, and controversies in the field in a concise, authoritative format.
Provides students with the analytical base from which to investigate and evaluate key concepts, perspectives, policies, and outcomes at national and international levels
Features a new section on devolution and social policy in the UK; enhanced discussion of international and comparative issues; and new coverage of 'nudge'-based policies, austerity politics, sustainable welfare, working age conditionality, social movements, policy learning and transfer, and social policy in the BRIC countries
Offers essential information for anyone studying social policy, from undergraduates on introductory courses to those pursuing postgraduate or professional programmes
Accompanied by updated online resources to support independent learning and skill development with chapter overviews, study questions, guides to key sources and career opportunities, a key term glossary, and more
Written by a team of experts working at the forefront of social policy
See More
Introduction
Part I Concepts and Approaches
1. What is Social Policy?
Pete Alcock
2. Researching Social Policy
Saul Becker and Pete Alcock
3. Social Needs, Social Problems, Social Welfare and Wellbeing
Nick Manning
4. Equality and Social Justice
Peter Taylor-Gooby
5. Human Rights and Equality
Deidre Flanigan and Alison Hosie
6. Efficiency, Equity and Choice
Carol Propper
7. Citizenship
Peter Dwyer
8. Changing Behaviour
Jessica Pykett
Part II Key Perspectives
9. Neo-liberalism
ick Ellison
10. The Conservative Tradition
Hugh Bochel
11. Social Democracy
Robert Page
12. Socialist Perspectives
Hartley Dean
13. Feminist Perspectives
Shona Hunter
14. Social Movements
Louisa Parks
15. Post-Modernist Perspectives
Tony Fitzpatrick
Part III Historical Context
16. Nineteenth Century Beginnings
Bernard Harris
17. The Liberal Era
Noel Whiteside
18. The Post-War Welfare State
Robert Page
19. Crisis, Retrenchment and Neo-Liberalism
Howard Glennerster
20. Modernisation and the Third Way
Martin Powell
21. Austerity Politics
Jay Wiggan
Part IV Devolution and Social Policy in the UK
22. Social Policy and Devolution
Richard Parry
23. Social Policy in Northern Ireland
Ann Marie Gray and Derek Birrell
24. Social Policy in Scotland
Lynne Poole
25. Social Policy in Wales
Paul Chaney
Part V Contemporary Context and Challenges
26. The Demographic Challenge
Jane Falkingham and Athina Vlachantoni
27. The Economic Context
Kevin Farnsworth and Zoe Irving
28. The Sustainability Challenge
Tony Fitzpatrick
29. The Role of Religion
Rana Jawed
30. The Distribution of Welfare
John Hills
31. Divisions and Difference
Sharon Wright
32. 'Race', Minority Ethnic Groups and Social Welfare
Lucinda Platt
33. Poverty and Social Exclusion
Pete Alcock
Part VI Welfare Production and Provision
34. State Welfare
Catherine Bochel
35. Commercial Welfare
Christopher Holden
36. Occupational Welfare
Edward Brunsdon and Margaret May
37. Voluntary Welfare
Jeremy Kendall
38. Informal Welfare
Linda Pickard
39. Welfare Users and Social Policy
Catherine Needham
40. Paying for Welfare
Howard Glennerster
41. Taxation and Welfare
Stuart Adam and Barra Roantree
Part VII Welfare Governance
42. The Policy Process
Hugh Bochel
43. Managing and Delivering Welfare
Ian Greener
44. Accountability for Welfare
Jackie Gulland
45. Local Governance
Guy Daly and Howard Davis
46. The European Union
Linda Hantrais
Part VIII Welfare Domains
47. Social Security
Karen Rowlingson and Stephen McKay
48. Employment
Alan Whitworth and Eleanor Carter
49. Health Care
Rob Baggott
50. Public Health
Rob Baggott
51. Education in Schools
Anne West
52. Lifelong Learning and Training
Claire Callender
53. Housing
David Mullins
54. Social Care
Jon Glasby
55. Criminal Justice
Tim Newburn
Part IX Experiencing Welfare
56. Working Age Conditionality
Ruth Patrick
57. Family Policies
Tina Haux
58. Children
Tess Ridge
59. Young People
Bob Coles and Aniela Wenham
60. Older People
Kate Hamblin
61. Disability
Mark Priestley
62. Migrants and Asylum Seekers
Majella Kilkey
Part X International and Comparative Context
63. Comparative Analysis
Margaret May
64. Policy Learning and Transfer
John Hudson
65. Social Policy in Europe
Jochen Clasen and Daniel Clegg
66. Social Policy in the USA
Scott L. Greer and Philip M. Singer
67. Social Policy in East Asia
Misa Izuhara
68. Social Policy in the BRICS countries
Rebecca Surender
69. Social Policy in the Middle East and North Africa
Rana Jawad
70. Social Policy in Developing Societies
Patricia Kennett
71. Globalism and International Organisations
Nicola Yeates
Appendix: The Social Policy Association (SPA)
See More
Pete Alcock
is Professor of Social Policy and Administration at the University of Birmingham, UK. He has been teaching and researching in social policy for forty years. From 2003-2008, he was Head of the School of Social Sciences at Birmingham, from 2008-2014 he was Director of the Third Sector Research Centre (TSRC), and since 2013 he has been Director of the University's ESRC Doctoral Training Centre. He is author and editor of a number of leading books on social policy including
Social Policy in Britain
(4
th
edition, 2014)
, Welfare Theory and Development
(4 volumes, 2011),
International Social Policy: Welfare Regimes in the Developed World
(2
nd
edition, 2009), and
Understanding Poverty
(3
rd
edition, 2006).His research has covered the fields of poverty and anti-poverty policy, social security, and the role of the UK third sector.
Tina Haux is Lecturer in Social Policy at the University of Kent, UK, and a member of the Qstep team at Kent. Her main research interests are family policy, welfare-to-work, social justice, evidence-based policy-making and, increasingly, longitudinal research methods. She is the author of the forthcoming book The Impact of Social Policy Scholars (2017).
Margaret May is Honorary Research Fellow in Social Policy and a member of the Centre for Household Asset and Savings Management (CHASM) at the University of Birmingham, UK. A past chair of the Social Policy Association, she has been teaching and researching in social policy for over thirty years and has edited and co-authored a number of leading books in the field, including Social Policy in Britain (fourth edition, 2014) and The Blackwell Dictionary of Social Policy (Blackwell, 2002). Her research interests include occupational and private welfare, employment policy, and human resource management.
Sharon Wright
is Senior Lecturer in Public Policy at the University of Glasgow, Scotland, where she teaches social and public policy, specializing in the policy process; policy, politics and power; and work, welfare, and the politics of reform. Her international research interests are in the lived experiences of poverty, social security, welfare reform, and the implementation of employment services at street-level. She is co-editor of
Understanding Inequality, Poverty and Wealth: Policies and Prospects
(2008), and is currently conducting a major new study entitled 'Welfare Conditionality: Sanctions, Support, and Behaviour Change'.
See More