The Internet For Dummies, 14th Edition
ISBN: 978-1-118-96769-0
384 pages
March 2015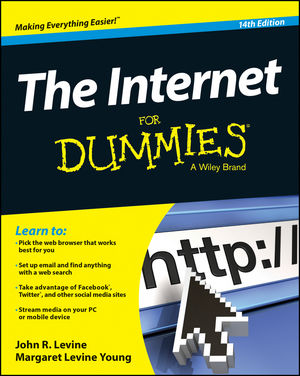 Get up and running on the Internet—the fast and easy way
If you're an Internet newcomer and want to get up to speed without all the intimidating technical jargon, The Internet For Dummies has you covered. With over 5,000,000 copies sold*, The Internet For Dummies is the #1 choice for Internet newcomers.
Inside, you'll discover how to make the most of the Internet, get accustomed to popular sites, find the information and items you need fast, and stay away from the bad stuff floating around online.
Catches you up on the latest online trends, from social networking sites to blogs and more
Includes the latest on Google Chrome, getting good search results, and sharing files
Covers choosing and connecting to an Internet provider, establishing an e-mail account, getting on the web, and finding the sites that matter most
Now in its 14th edition, The Internet For Dummies covers the latest social networking tools, browser features, connection options, safety features, and so much more. Starting out with the basics, it walks you through getting online, picking an Internet provider, getting to know the different web browsers, dealing with e-mail and connecting with friends, finding the hottest sites to share photos and videos—and everything in between.
*Includes all formats and all editions
See More
Introduction 1
Part I: Getting Started with the Internet 5
Chapter 1: What's So Great about the Internet? 7
Chapter 2: Is the Internet Safe? Viruses, Spyware, Spam, and Other Yucky Stuff 15
Chapter 3: Kids and the Internet 35
Part II: Internet, Here I Come! 47
Chapter 4: Assembling Your Gear and Climbing on the Net 49
Chapter 5: Setting Up Your Own Network or Wi-Fi Hotspot 75
Chapter 6: Welcome to the Wild, Wonderful, Wacky Web 89
Chapter 7: Taking Your Browser for a Spin 109
Part III: Hanging Out with Friends Online 137
Chapter 8: It's in the Mail: Sending and Receiving Email 139
Chapter 9: Putting Your Mail in Its Place 161
Chapter 10: Get ting Social with Facebook and Google+ 177
Chapter 11: Tweeting about Your Life 191
Chapter 12: Typing and Talking Online 203
Part IV: The Web Is Full of Cool Stuff 229
Chapter 13: Needles and Haystacks: Finding Almost Anything Online 231
Chapter 14: Music and Video on the Web 251
Chapter 15: More Shopping, Less Dropping 269
Chapter 16: Banking, Bill Paying, and Investing Online 289
Part V: Putting Your Own Stuff on the Web 305
Chapter 17: Making a Splash Online 307
Chapter 18: Blogging: The World Reads Your Diary 321
Part VI: The Part of Tens 331
Chapter 19: Ten Fun Things You Can Do Online 333
Chapter 20: Ten Worthwhile Things to Do Online 341
Index 347
See More
John R. Levine is a recognized technology expert and consumer advocate who works against online fraud and email spam. Margaret Levine Young is a technology author who has written on topics ranging from the Internet to Windows to Access.
See More