ICH Quality Guidelines: An Implementation Guide
ISBN: 978-1-118-97111-6
752 pages
October 2017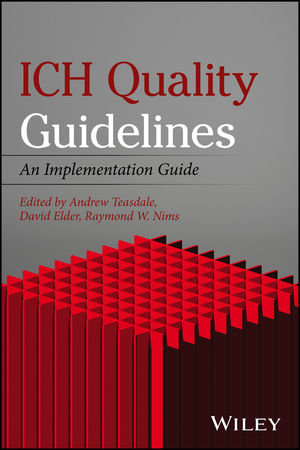 Examining the implications and practical implementation of multi-disciplinary International Conference on Harmonization (ICH) topics, this book gives an integrated view of how the guidelines inform drug development strategic planning and decision-making.

• Addresses a consistent need for interpretation, training, and implementation examples of ICH guidelines via case studies
• Offers a primary reference point for practitioners addressing the dual challenge of interpretation and practical implementation of ICH guidelines
• Uses case studies to help readers understand and apply ICH guidelines
• Provides valuable insights into guidelines development, with chapters by authors involved in generating or with experience implementing the guidelines
• Includes coverage of stability testing, analytical method validation, impurities, biotechnology drugs and products, and good manufacturing practice (GMP)
See More
List of Contributors
Chapter 1: ICHQ1A(R2) STABILITY TESTING OF NEW DRUG SUBSTANCE AND PRODUCT, ICHQ1C STABILITY TESTING OF NEW DOSAGE FORMS
Chapter 2: ICH Q1B STABILITY TESTING: PHOTOSTABILITY TESTING OF NEW DRUG SUBSTANCES AND PRODUCTS
Chapter 3: ICH Q1D THE EFFICIENT DESIGN OF STABILITY PROTOCOLS - BRACKETING AND MATRIXING
Chapter 4: ICH Q1E EVALUATION FOR STABILITY DATA
Chapter 5: ICH Q2 VALIDATION OF ANALYTICAL PROCEDURES: TEXT AND METHODOLOGY
Chapter 6: ICH Q3A / Q3B IMPURITIES IN NEW DRUG SUBSTANCES AND NEW DRUG PRODUCTS: KEY IN THE GENERAL IMPURITY MANAGEMENT PROCESS
Chapter 7: ICH Q3C IMPURITIES: GUIDELINE FOR RESIDUAL SOLVENTS
Chapter 8: ICH Q3D ELEMENTAL IMPURITIES
Chapter 9: ICH Q4 PHARMACOPOEIAL HARMONIZATION
Chapter 10: ICH Q5A VIRAL SAFETY OF BIOTECHNOLOGY PRODUCTS
Chapter 11: ICH Q5B ANALYSIS OF THE EXPRESSION CONSTRUCT IN CELL LINES USED FOR PRODUCTION OF RECOMBINANT-DNA-DERIVED PROTEIN PRODUCTS
Chapter 12: ICH Q5C STABILITY TESTING OF BIOTECHNOLOGICAL/BIOLOGICAL PRODUCTS
Chapter 13: ICH Q5D DERIVATION AND CHARACTERISATION OF CELL SUBSTRATES USED FOR PRODUCTION OF BIOTECHNOLOGICAL/BIOLOGICAL PRODUCTS
Chapter 14: CONDUCT OF RISK ASSESSMENTS: AN INTEGRAL PART OF COMPLIANCE WITH ICH Q5A AND ICH Q5D
Chapter 15: ICH Q5E COMPARABILITY OF BIOTECHNOLOGICAL/BIOLOGICAL PRODUCTS SUBJECT TO CHANGES IN THEIR MANUFACTURING PROCESSES - SUMMARY AND ANALYSIS OF ICH Q5E GUIDELINE
Chapter 16: ICH Q6A SPECIFICATIONS: TEST PROCEDURES AND ACCEPTANCE CRITERIA FOR NEW DRUG SUBSTANCES AND NEW DRUG PRODUCTS: CHEMICAL SUBSTANCES
Chapter 17: ICH Q6B SPECIFICATIONS: TEST PROCEDURES AND ACCEPTANCE CRITERIA FOR BIOTECHNOLOGICAL/BIOLOGICAL PRODUCTS
Chapter 18: PROCESS-RELATED IMPURITIES IN BIOPHARMACEUTICALS – A DEEPER DIVE INTO ICH Q6B
Chapter 19: ICH Q7- GOOD MANUFACTURING PRACTICE GUIDE FOR ACTIVE PHARMACEUTICAL INGREDIENTS (APIs)
Chapter 20: ICH Q8 PHARMACEUTICAL DEVELOPMENT
Chapter 21: ICH Q9 QUALITY RISK MANAGEMENT
Chapter 22: ICH Q10 A PHARMACEUTICAL QUALITY SYSTEM STRATEGY FOR A GLOBALLY DIVERSE COMPANY
Chapter 23: ICH Q11 – DEVELOPMENT AND MANUFACTURE OF DRUG SUBSTANCE
Chapter 24: ICH M7 - ASSESSMENT AND CONTROL OF DNA REACTIVE (MUTAGENIC) IMPURITIES IN PHARMACEUTICALS TO LIMIT POTENTIAL CARCINOGENIC RISK
Index
See More
Andrew Teasdale, PhD, is a principal scientist in pharmaceutical development with AstraZeneca. He has over 20 years' experience within the industry and has held a number of leadership roles both internally and externally at a cross industry level encompassing key ICH topic areas.
David Elder, PhD,
is a director within GlaxoSmithKline's (GSK) platform technology and science (PTS) function. He has 23 years' experience at GSK and another 16 within the pharmaceutical industry, at Sterling Winthrop and Syntex.
Raymond Nims, PhD,
is a Senior Consultant at RMC Pharmaceutical Solutions, with experience in a variety of GMP quality assurance and quality control topics from a biologics point of reference. He has served on ad hoc panels supporting a number of USP chapters and ANSI Standards.
See More