The Wiley Blackwell Handbook of the Psychology of Recruitment, Selection and Employee Retention
ISBN: 978-1-118-97269-4
592 pages
July 2017, Wiley-Blackwell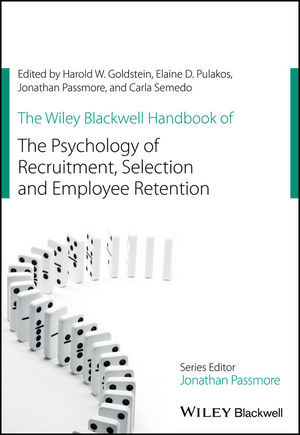 This handbook makes a unique contribution to the fields of organizational psychology and human resource management by providing comprehensive coverage of the contemporary field of employee recruitment, selection and retention. It provides critical reviews of key topics such as job analysis, technology and social media in recruitment, diversity, assessment methods and talent management, drawing on the work of leading thinkers including Melinda Blackman, Nancy Tippins, Adrian Furnham and Binna Kandola. The contributors are drawn from diverse backgrounds and a wide range of countries, giving the volume a truly international feel and perspective. Together, they share important new work which is being undertaken around the globe but is not always easily accessible to real-world practitioners and students.
See More
Notes on Editors
Notes on Contributors
Foreword
Series Preface
Railway Children
1. The Psychology of Employee Recruitment, Selection, and Retention
Harold W. Goldstein, Elaine Pulakos, Jonathan Passmore and Carla Semedo
2. The Contribution of Job Analysis to Recruitment
James A. Breaugh
3. Global Recruiting
Jean M. Phillips and Stanley M. Gully
4. Applicant Reactions to Hiring Procedures
Donald M. Truxillo, Talya N. Bauer and Alexa M. Garcia
5. Applicant attraction to organizations and job choice
Adrian Furnham and Kat Palaiou
6. Ethics in recruitment and selection
Nuno Rebelo dos Santos, Leonor Pais, Carla Cabo-Leitão and Jonathan Passmore
7. Using Ability Tests in Selection
Jesús F. Salgado
8. Using Personality Questionnaires for Selection
David J. Hughes and Mark Batey
9. Using Interviewing in Selection
Melinda Blackman
10. The contribution of others methods in recruitment and selection: Biodata, references, Résumés, CVs
Adrian Furnham
11. Situational Judgment Tests for Selection
Jan Corstjens, Filip Lievens and Stefan Krumm
12. The Role of Simulation Exercises in Selection
Ryan S. O'Leary, Jacob W. Forsman and Joshua A. Isaacson
13. The Potential of Online Selection
Dave Bartram and Nancy Tippins
14. Gamification, Serious Games and Personnel Selection
Michael Fetzer, Jennifer McNamara and Jennifer L. Geimer
15. Team Assessment and Selection
Mengqiao Liu, Jason L. Huang, and Marcus W. Dickson
16. Selection for Virtual Teams
Geeta D'Souza, Matthew S. Prewett and Stephen M. Colarelli
17. Assessment for Leader Development
Neta Moye, Rose Mueller-Hanson and Claus Langfred
18. Talent Management in a Gender Diverse Workforce
Jeanette N. Cleveland, Jaclyn Melendez and Lauren Wallace
19. Race and Cultural Differences on Predictors Commonly Used in Employee Selection and Assessment
Charles A. Scherbaum, Michael M. DeNunzio, Justina Oliveira and Mary Ignagni
20. Legal and Fairness Considerations in Employee Selection
Kenneth P. Yusko, Brian L. Bellenger, Elliott C. Larson, Paul J. Hanges and Juliet R. Aiken
21. Employee Turnover and Strategies for Retention
Angela R. Grotto, Patrick K. Hyland, Anthony W. Caputo and Carla Semedo
22. Talent Management and Retention
Crystal Zhang and Jim Stewart
23. The Impact of Organizational Climate and Culture on Employee Turnover
Mark G. Ehrhart and Maribeth Kuenzi
24. The Impact of Work-Life Balance on Employee Retention
Kristen M. Shockley, Christine R. Smith and Eric Knudsen
Index
See More
Harold W. Goldstein is Associate Professor of Industrial/Organizational Psychology at Baruch College, the City University of New York, USA. He has previously held teaching positions in the psychology departments at Bowling Green State University and New York University. His primary areas of expertise are in personnel staffing and equal employment opportunity issues, leadership development, and organizational culture.
Elaine D. Pulakos is President of PDRI and an internationally recognized contributor to the field of industrial and organizational psychology. In 2010 she received the Distinguished Professional Contributions Award from SIOP, where she has also served as President. She has published numerous articles on performance management, staffing and human resources best practices, and is the author of three books including Performance Management (2009).
Jonathan Passmore is Professor of Psychology at the University of Évora, Portugal, Managing Director of Embrion, a psychology consulting company, and one of the UK's foremost leadership coaches with a wealth of private sector and academic experience. His prolific research, writing, consultancy and speaking have made him a recognized authority on coaching and organizational change. His many books include Excellence in Coaching (2006).
Carla Sofia Carrilho Lopes Santarém Semedo is Assistant Professor in the Department of Psychology at the University of Évora, Portugal, where she leads on occupational health psychology. She is responsible for teaching psychology at undergraduate, masters, and doctoral level, and for coordinating the occupational health psychology research line. She also works as a consultant in evaluation and intervention in organizational psychology.
See More