Your Child's Social and Emotional Well-Being: A Complete Guide for Parents and Those Who Help Them
ISBN: 978-1-118-97706-4
256 pages
May 2016, Wiley-Blackwell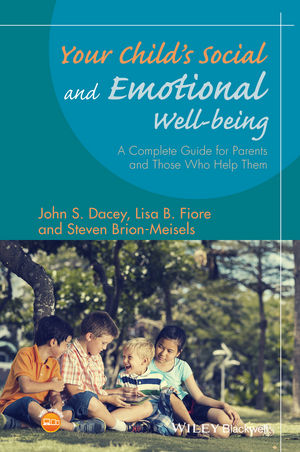 Your Child's Social and Emotional Well-Being
provides a practical guide full of proven strategies for promoting social and emotional learning (SEL) skills in children aged 4-16.
A practical guide designed to support parents and education professionals in developing social and emotional skills in children, a form of learning that can be neglected in formal education
Demonstrates how to foster social and emotional learning (SEL) at home and in the classroom, and shows how parents and professionals can work together for success
Includes a wealth of exercises for promoting social and emotional wellbeing, along with tips, tools, and coverage of new developments such as computer-assisted instruction
Written by authors with a wealth of practical and writing experience
See More
Acknowledgments ix
About the Companion Website x
1 All Children Need Social and Emotional Well-being 1
Part I Self-awareness 11
2 Building Character 13
3 Practicing Mindfulness 37
Part II Self-management 53
4 Resiliency: Calming Fears and Anxiety 55
5 Independent Thinking 71
6 Self-regulating 87
Part III Social Awareness 107
7 Competing and Cooperating 109
8 Neither Being Bullied nor Being a Bully 123
Part IV Relationship Skills 135
9 Building Successful Friendships 137
10 Demonstrating Leadership 153
Part V Responsible Decision-making 169
11 Thinking Creatively 171
12 Thinking Critically and Wisely 189
Part VI Achieving Your Goals Even More Effectively 205
13 Getting Help with Your Efforts 207
14 The Future of SEL 221
References 229
Index 239
See More
John S. Dacey teaches courses in creativity and human development at the College of Arts and Sciences at Boston College in Chestnut Hill, MA. He also runs a practice as a licensed psychotherapist. He is the author of 14 books on the subjects of anxiety, creativity and human development, including Your Anxious Child, Second Edition (Wiley 2016).
Lisa B. Fiore is a Professor of Education and Director of the Child Homelessness Initiative at Lesley University in Cambridge, MA. She is an expert on social and emotional learning, giving workshops and conference presentations, as well as a licensed Early Childhood teacher.
Steven Brion-Meisels
(1949-2014) worked in schools for over 40 years teaching and writing about social and emotional development, peace-making, and building democratic classrooms. Among other accomplishments, Steven was a founding and long-time member of the Peaceable Schools and Communities Project and a founding member of the Social-Emotional Alliance of Massachusetts.
See More