Online Risk to Children: Impact, Protection and Prevention
ISBN: 978-1-118-97758-3
264 pages
July 2017, Wiley-Blackwell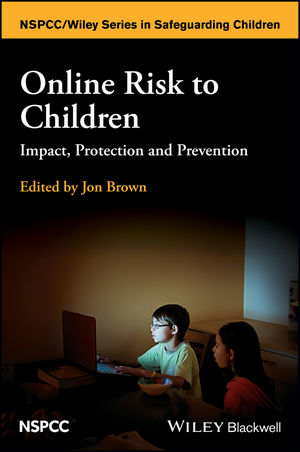 Online Risk to Children brings together the most up-to-date theory, policy, and best practices for online child protection and abuse prevention.
Moves beyond offender assessment and treatment to discuss the impact of online abuse on children themselves, and the risks and vulnerabilities inherent in their constantly connected lives
Global in scope, setting contributions from leading researchers and practitioners in the UK in international context via chapters from Australia, the USA and Europe.
Key topics covered include cyberbullying, peer-oriented abuse, victim treatment approaches, international law enforcement strategies, policy responses, and the role of schools and industry
See More
Foreword xi
Anne Longfield
About the Contributors xiii
Acknowledgements xvii
Introduction 1
Jon Brown
1 A Brief History of Child Safety Online: Child Abuse Images on the Internet 5
John Carr
Unintended, Unforeseen and Unwanted Consequences 5
Sexual Images of Children 6
The World Wide Web Explosion 7
Affordability, Accessibility and Anonymity – The Three As – Provide The Spur 8
The Number of Arrests and Police Operations Start to Climb 9
The Emergence of Hotlines 10
The Birth of the Internet Watch Foundation 12
Not a Very Promising Start 15
The Terrain Shifts and URL Blocking Emerges 16
Technology Comes to the Rescue of a Problem Technology Helped to Create 18
The Role of Search Engines 19
The Unanswered Questions about Technical Solutions 19
2 Children's and Young People's Lives Online 23
Sonia Livingstone
Trends in Children's Internet use 24
Parental Responses and Responsibilities 25
Digital Skills as Mediators—Why is it Hard to Get This Right? 27
The Emerging Balance of Opportunities and Risks 28
Evidence ]Based Implications for Policy and Practice 30
Conclusion 32
3 Cyberbullying and Peer ]Oriented Online Abuse 37
Andy Phippen
Perspectives on Online Child Protection From Parents 39
Policy Responses and 'Prevention' Mechanisms 41
Growing up in the Online World 43
4 Offender Behaviour 55
Helen C. Whittle and Catherine Hamilton-Giachritsis
The Impact of the Online Environment 56
Offending Online 57
Comparison with Offline Offenders 65
Gaps in Our Knowledge 67
Conclusion 67
5 Treatment of Online Offenders: Current Best Practice and Next Steps 73
Sandy Jung
Online Sex Offenders: Characteristics and Comparisons with Contact Offenders 74
Typology of Online Offenders 77
Theories of Online Offending 79
Intervention Best Practices with Online Sex Offenders 81
Conclusion 90
6 The Impact of Online Sexual Abuse on Children and Young People 97
Elly Hanson
Overview of Online Sexual Abuse 98
The Impact of Child Sexual Abuse 102
Characteristics of CSA that Affect Impact 104
Social Contextual Factors that Affect Impact 104
Social and Psychological Processes Following Abuse 106
Complexities to Online Sexual Abuse 106
Salient Factors Underpinning Impact 111
Promoting Resilience, Reducing Impact, Fostering Recovery 116
Research Directions 117
Conclusion 117
7 Promising Therapeutic Approaches for Children, Young People and their Families Following Online Sexual Abuse 123
Elly Hanson
Effective and Promising Treatment Approaches for Problems in Childhood Arising from Sexual Abuse 124
Key Targets for Change in Therapy 127
Promising Methods of Fulfilling Key (Overlapping) Therapeutic Aims 130
Engagement and Building a Strong Therapeutic Relationship 131
Developing Positive Body Esteem and Sexuality 133
Reducing the Impact of Abuse Images Circulating and the Threat of This 133
Overcoming Shame and Self ]Blame; Building Pride and Mastery 135
Facilitating Support from Families 136
Conclusion 137
8 Preventing Child Sexual Abuse Online 143
Stephen Smallbone and Richard Wortley
Organising Prevention Strategies 144
Prevention Strategies 146
Primary Prevention 146
Secondary Prevention 150
Tertiary Prevention 154
Conclusion 158
9 Promoting Child Protection Principles in Complex Abuse Investigation Involving Online Offending 163
Zoe Hilton
Definitions 164
Key Principles for Operational Activity 165
Incorporating Child Protection Principles into Operational Planning 166
Principles of Working 166
Capacity and Capability Building 170
Operational Examples 171
Annex 1 173
10 Staying Safe Online 177
Dido Harding
Technology Is Changing the Rules – or Is It? 177
Embracing Opportunities 178
Industry's Responsibility 180
Industry Action 181
The Future Challenge 186
11 UK Policy Responses and Their International Relevance 189
Claire Lilley
Definitions and Terminology 190
Legislation 190
Removal of Child Abuse Content 193
Multi ]Agency Approaches 195
The Role of NGOs 197
Policing Response 198
Offenders 202
Victims 205
Recent Developments 206
Conclusion 210
12 The Role of Schools in Children's Online Safety 217
Martin Waller
Online Technologies and Education 218
The Blurring of Boundaries 219
E ]Safety and Moral Panics 222
Integrating Online Technologies 223
Implications 227
Conclusion 228
Epilogue 231
Jon Brown
Index 235
See More
Jon Brown is Head of Strategy and Development for The NSPCC (National Society for the Prevention of Cruelty to Children). He is a qualified Social Worker with a Masters in Social Policy from the London School of Economics. Before joining the NSPCC, he served as Operational Director of Children's Services for Action for Children. From 2003-2007 he was Chair of the National Organization for the Treatment of Abusers, and he remains on their National Executive Committee. He is also a Trustee of the Loudoun Trust, a Board member of eNACSO (European NGO Alliance for Child Safety Online), and a peer reviewer for the Economic and Social Research Council.
See More
More in this series