E-book
Medical Billing and Coding For Dummies, 2nd Edition
ISBN: 978-1-118-98255-6
360 pages
May 2015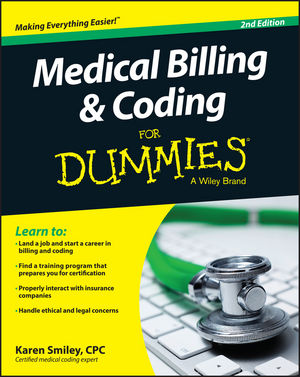 Your complete guide to a career in medical billing and coding, updated with the latest changes in the ICD-10 and PPS
This fully updated second edition of Medical Billing & Coding For Dummies provides readers with a complete overview of what to expect and how to succeed in a career in medical billing and coding. With healthcare providers moving more rapidly to electronic record systems, data accuracy and efficient data processing is more important than ever. Medical Billing & Coding For Dummies gives you everything you need to know to get started in medical billing and coding.
This updated resource includes details on the most current industry changes in ICD-10 (10th revision of the International Statistical Classification of Diseases and Related Health Problems) and PPS (Prospective Payment Systems), expanded coverage on the differences between EHRs and MHRs, the latest certification requirements and standard industry practices, and updated tips and advice for dealing with government agencies and insurance companies.
Prepare for a successful career in medical billing and coding
Get the latest updates on changes in the ICD-10 and PPS
Understand how the industry is changing and learn how to stay ahead of the curve
Learn about flexible employment options in this rapidly growing industry
Medical Billing & Coding For Dummies, 2nd Edition provides aspiring professionals with detailed information and advice on what to expect in a billing and coding career, ways to find a training program, certification options, and ways to stay competitive in the field.
See More
Introduction 1
Part I: Getting to Know Medical Billing and Coding 5
Chapter 1: Dipping Your Toes into Medical Billing and Coding 7
Chapter 2: Exploring the Billing and Coding Professions 17
Chapter 3: Weighing Your Employment Options 31
Part II: Boning Up on the Need?]to?]Knows of Your Profession 43
Chapter 4: Compliance: Understanding the Rules 45
Chapter 5: Not?]So?]Strange Bedfellows: Medical Terminology and Medical Necessity 61
Chapter 6: Getting to Know the Payers 85
Part III: Becoming a Professional: Getting Certified 101
Chapter 7: Your Basic Certification Options, Courtesy of the AAPC and AHIMA 103
Chapter 8: The Path to Certification: Finding a Study Program 117
Chapter 9: Signing Up and Preparing for the Certification Exam 137
Chapter 10: Adding Street Cred: Specialty Certifications and Continuing Ed 155
Part IV: Dealing and Succeeding with Nitty?]Gritty On?]the?]Job Details 167
Chapter 11: Processing a Run?]of?]the?]Mill Claim: An Overview 169
Chapter 12: Homing In on How to Prepare an Error?]free Claim 187
Chapter 13: From Clearinghouse to Accounts Receivable to Money in the Pocket 203
Chapter 14: Handling Disputes and Appeals 215
Chapter 15: Keeping Up with the Rest of the World 235
Part V: Working with Stakeholders 247
Chapter 16: Dealing with Commercial Insurance Claims 249
Chapter 17: Caring about Medicare 261
Chapter 18: Client Relations and Coding Ethics: Being an Advocate for Your Employer 275
Part VI: The Part of Tens 291
Chapter 19: Ten Common Billing and Coding Mistakes and How to Avoid Them 293
Chapter 20: Ten Acronyms to Burn into Your Brain 299
Chapter 21: Ten (Plus One) Tips from Billing and Coding Pros 303
Glossary 309
Index 319
See More
Karen Smiley, CPC, is a certified multi-specialty coding expert in physician and outpatient reimbursement. She is a professional coder at an ambulatory surgery center, and her extensive background includes commercial, Medicare, and Medicaid claims processing.
See More