Successful Time Management For Dummies, 2nd Edition
ISBN: 978-1-118-98266-2
384 pages
March 2015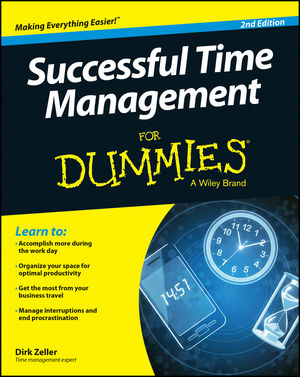 Incorporate effective time management and transform your life
If you always feel like there's not enough time in the day to get everything accomplished, Successful Time Management For Dummies is the resource that can help change your workday and your life. Filled with insights into how the most successful people manage distractions, fight procrastination, and optimize their workspace, this guide provides an in-depth look at the specific steps you can use to take back those precious hours and minutes to make more of your workday and your leisure time.
Modern life is packed with commitments that take up time and energy. But by more effectively managing time and cutting out unnecessary and unproductive activities, you really can do more with less. In this complete guide to time management, you'll find out how to manage email effectively, cut down on meetings and optimize facetime, use technology wisely, maximize your effectiveness during travel, and much more.
Find out how to accomplish more at work and in life, all in less time
Organize your professional life and workspace for optimal productivity
Learn to put an end to procrastination and successfully handle interruptions
Get specific insights into time management in various functions, from administration professionals to executives
If you're looking to take back your time and ramp up your productivity, Successful Time Management For Dummies is the resource to help get your there in a hurry.
See More
Introduction 1
About This Book 1
Icons Used in This Book 2
Foolish Assumptions 3
Beyond the Book 3
Where to Go From Here 4
Part I: Beginning the Revolution:Simple Steps to Start With 5
Chapter 1: The Essence of Good Time Management: Organizing Yourself 7
Chapter 2: Setting Yourself Up for Success 13
Chapter 3: Linking Time Management to Life Goals 25
Chapter 4: Putting a Value on Your Time 41
Part II: Establishing a Good System 51
Chapter 5: Focusing Your Efforts, Prioritizing Tasks, and Blocking Your Time 53
Chapter 6: Efficiently Working from a Home Office 73
Chapter 7: Setting Up and Maintaining a Productive Workspace 85
Chapter 8: Fine-Tuning Organization Skills with Technology 101
Part III: Using Technology to Leverage Your Time 117
Chapter 9: Leveraging Your Time with Technology 119
Chapter 10: Controlling Email Overload 131
Chapter 11: The Facebook Balancing Act 139
Chapter 12: Twitter: Time Saver or Time Waster 149
Chapter 13: Creating Effective LinkedIn Strategies 155
Part IV: Confronting Challenges to Time Management 161
Chapter 14: Communicating Strategically to Get Results — Fast 163
Chapter 15: Defending Your Day from Interruptions 185
Chapter 16: Overcoming Procrastination 203
Chapter 17: Coping with a Time-Wasting Boss 221
Chapter 18: Mastering Meetings with Co ]Workers 233
Part V: Maintaining Efficiency When Working with Others 251
Chapter 19: Time Management for Administrative Staff 253
Chapter 20: Time Management for Salespeople 265
Chapter 21: Time Management for Business Owners and Executives 287
Chapter 22: Coaching Others to Manage Time Effectively 303
Part VI: The Part of Tens 319
Chapter 23: Ten Time ]Wasting Behaviors 321
Chapter 24: Ten Time ]Efficient Habits 331
Index 339
See More
Dirk Zeller is one of the world's most published authors on success, time management, productivity, sales, and life balance. He is the author of ten top-selling books, including Telephone Sales For Dummies and Success as a Real Estate Agent For Dummies.
See More