Raising Chickens For Dummies, 2nd Edition
ISBN: 978-1-118-98278-5
432 pages
March 2015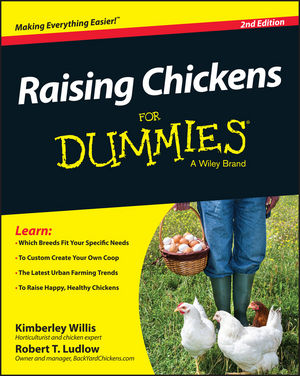 Your hands-on guide to modern chicken-raising methods
Thinking about raising chickens? You've come to the right place! This new edition of Raising Chickens For Dummies provides the most up-to-date, thorough information on the many aspects of keeping chickens in your backyard. Inside, you'll find hands-on, easy-to-follow instructions on choosing and purchasing chickens, constructing housing for your birds, feeding your chickens for optimal health, combating laying issues, controlling pests and predators, optimizing egg production, and much more.
Raising chickens on a small scale is a popular—and growing—pastime. If you're interested in keeping chickens as pets or as a source for eggs, Raising Chickens For Dummies gives you plain-English explanations of everything you need to know to about caring for chickens. Inside, you'll learn about basic chicken biology, breeds, and behavior, which chicken breed is best for you, how many you need, ways to spot healthy chickens, how to build a chicken coop, best practices for mating your chickens, how to incubate eggs, how to hatch and nurture chicks, manage laying hens, collect and store eggs, and butcher meat birds.
Offers practical advice on choosing and purchasing chickens
Helps you construct the right housing for your chickens
Provides tips on feeding and caring for your chickens
Includes top tips for raising healthy chickens
Whether you're a first-time poulterer or you've been raising chickens for years, this comprehensive guideprovides practical how-to advice for keeping chickens in virtually any backyard.
See More
Introduction 1
Part I: Getting Started with Raising Chickens 5
Chapter 1: The Joy of Chickens 7
Chapter 2: Basic Chicken Biology and Behavior 21
Chapter 3: A Chicken Isn't Just a Chicken: Your Guide to Breeds 45
Chapter 4: Buying Chickens 65
Part II: Housing Your Flock 85
Chapter 5: Choosing Your Housing Type 87
Chapter 6: Designing and Constructing a Coop 111
Chapter 7: Coop, Sweet Coop: Furnishing and Housekeeping 133
Part III: Caring for Your Flock: General Management 149
Chapter 8: Feeding Your Flock 151
Chapter 9: Controlling Pests and Predators 175
Chapter 10: Keeping Your Flock Happy and Healthy 193
Chapter 11: Handling Health Problems 217
Part IV: Breeding: From Chicken to Egg and Back Again 247
Chapter 12: Mating Your Chickens 249
Chapter 13: Incubating Eggs and Hatching Chicks 267
Chapter 14: Raising Chicks 295
Part V: Special Management Considerations 319
Chapter 15: Managing Layers and Collecting Eggs 321
Chapter 16: Raising and Butchering Meat Birds 349
Part VI: The Part of Tens 383
Chapter 17: More than Ten Tips for Keeping Healthy, Stress-Free Chickens 385
Chapter 18: More than Ten Misconceptions about Chickens, Eggs, and So On 393
Index 401
See More
Kimberley Willis has raised numerous breeds of chickens and other poultry for eggs, meat, and showing for more than 40 years.
Robert T. Ludlow owns and manages BackYardChickens.com, the largest and fastest-growing community of chicken enthusiasts in the world.
See More