Crow and Walshaw's Manual of Clinical Procedures in Dogs, Cats, Rabbits and Rodents, 4th Edition
ISBN: 978-1-118-98570-0
424 pages
May 2016, Wiley-Blackwell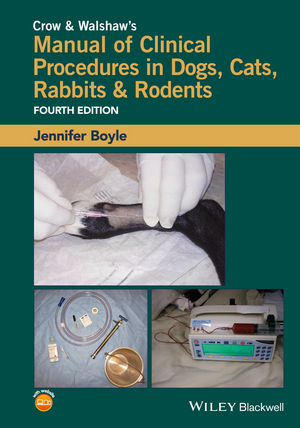 Crow & Walshaw's Manual of Clinical Procedures in Dogs, Cats, Rabbits, & Rodents, Fourth Edition provides practical, up-to-date information on common veterinary procedures for gerbils, hamsters, guinea pigs, dogs, cats and rabbits with detailed line drawings and photographs that demonstrate not only pertinent anatomical relationships, but also operational motions.
A classic veterinary clinical manual
Provides practical, up-to-date information on common veterinary procedures
Detailed line drawings and photographs demonstrate pertinent anatomical relationships and operational motions
Companion website offering interactive multiple choice questions and answers, and images from the text in PowerPoint
See More
Preface
Acknowledgments
PART I ROUTINE CLINICAL PROCEDURES
1 Restraint of Dogs and Cats
2 Blood Collection
3 Injection Techniques
4 Placement and Care of Intravenous Catheters
5 Oral Administration of Medications
6 Dermatologic Procedures
7 Impression Preparations
8 Fine-Needle Aspiration Biopsy
9 Ophthalmic Procedures
10 Ear Care
11 Pedicure
12 Urethral Catheterization
13 Digital Rectal Examination
14 Anal Sac Expression and Cannulation
15 Enema
PART II SPECIALIZED CLINICAL PROCEDURES
16 Skin Preparation
17 Intubation
18 Gastric Lavage
19 Transtracheal Wash
20 Centesis
21 Peritoneal Catheterization and Lavage
22 Needle Biopsy of Masses and Viscera
23 Urohydropropulsion
24 Prostatic Massage/Washing
25 Semen Collection and Artificial Insemination
26 Vaginal Examination and Specimen Collection
27 Bone Marrow Aspiration and Biopsy
28 Cerebrospinal Fluid Collection
PART III EMERGENCY PROCEDURES
29 Rapid Evaluation of Bleeding and Clotting Disorders
30 Blood Pressure Measurement
31 Transfusion of Blood and Plasma
32 Placement of Intraosseous Catheters
33 Arterial Blood Collection
34 Tracheostomy
35 CPR
PART IV ROUTINE CLINICAL PROCEDURES IN SMALL MAMMALS
Chapter 36 Restraint of Rabbits
37 Selected Clinical Procedures in Rabbits
38 Selected Clinical Procedures in Small Rodents
Index
See More
Jennifer E. Boyle, RVT, VTS (ECC) has been an active member of the veterinary community for more than 20 years, teaching and promoting the veterinary profession. Her experience includes many years working with senior veterinary students at the UC Davis VMTH, lecturing on a local and national level, Vice –Chair of the California Veterinary Medical Board Multidisciplinary Advisory Committee and Past President of the California Veterinary Technicians Association. She was also a co-author of Manual of Clinical Procedures in Dogs, Cats, Rabbits, and Rodents, Third Edition. She is currently the Continuing Education Relationships Manager for the Veterinary Information Network.
See More
"This user-friendly manual covers a broad range of clinical procedures, which are separated into 4 parts: Routine Clinical Procedures, Specialized Clinical Procedures, Emergency Procedures, and Routine Clinical Procedures in Small Mammals. The text is provided in outline format and is complemented by the substantial use of figures and images that depict the various techniques and procedures described. The book more than fulfills its stated intent of serving as an easy-to-follow guide for a variety of clinical procedures seen in companion animal practice...I commend the author for her thoroughness both in the topics selected and the details provided regarding the performance of the described techniques...Not only is this print edition a great resource, but it also has a companion website that includes all figures from the book and supplemental interactive multiple-choice questions and answers." (Journal of the American Veterinary Medical Association, 15th Dec 2016)
See More