Service Design for Business: A Practical Guide to Optimizing the Customer Experience
ISBN: 978-1-118-98892-3
208 pages
December 2015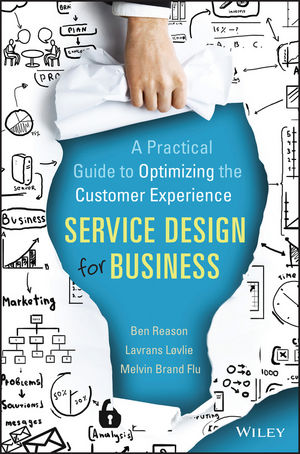 A practical approach to better customer experience through service design
Service Design for Business helps you transform your customer's experience and keep them engaged through the art of intentional service design. Written by the experts at Livework, this practical guide offers a tangible, effective approach for better responding to customers' needs and demands, and provides concrete strategy that can be implemented immediately. You'll learn how taking a design approach to problem solving helps foster creativity, and how to apply it to the real issues that move businesses forward. Highly visual and organized for easy navigation, this quick read is a handbook for connecting market factors to the organizational challenge of customer experience by seeing your company through the customers' eyes.
Livework pioneered the service design industry, and guides organizations including Sony, the British Government, Volkswagen Procter & Gamble, the BBC, and more toward a more carefully curated customer experience. In this book, the Livework experts show you how to put service design to work in your company to solve the ongoing challenge of winning with customers.
Approach customer experience from a design perspective
See your organization through the lens of the customer
Make customer experience an organization-wide responsibility
Analyze the market factors that dovetail with customer experience design
The Internet and other digital technology has brought the world to your customers' fingertips. With unprecedented choice, consumers are demanding more than just a great product—the organizations coming out on top are designing and delivering experiences tailored to their customers' wants. Service Design for Business gives you the practical insight and service design perspective you need to shape the way your customers view your organization.
See More
Introduction vii
Chapter 1 Why Service Design 1
Three Trends That Make Service Design Relevant Today 2
Use Service Design to Deal with Business Ambitions and Organizational Challenges 4
Key Concepts 7
Chapter 2 Foundations: Three Critical Factors in Service Design 15
Movement 17
Structures 32
Behavior 44
Challenges 50
Chapter 3 The Customer Story: Understanding Customers Better Provides the Basis for Customer-Driven Service Improvement and Innovation 53
Get the Basics Right and Achieve Customer Experience Excellence 54
Prevent Customer Irritations and Failures 62
Engage Customers Effectively 70
High-Impact Customer Innovations 78
Chapter 4 Business Impact: Designing a Service around Customers' Needs Provides a New Way to Address Age-Old Business Challenges 87
Innovate New Business Concepts 88
Becoming a More Digital Business 96
Achieve Higher Customer Performance 106
Successful Launch and Adoption of a New Product or Service 117
Chapter 5 Organizational Challenge: Using Customer Centricity to Move Your Organization Forward 125
Foster Internal Alignment and Collaboration 126
Deliver Better Staff Engagement and Participation 134
Build a Customer-Centric Organization 141
Building a More Agile Organization 151
Chapter 6 Tools 161
Customer Profiles 162
Customer Insights 164
Customer Journeys 166
Customer LifeCycles 168
Cross-Channel Views 170
Service Scenarios 172
Organizational Impact Analysis 174
Creative DesignWorkshops 177
Acknowledgements 181
Index 183
See More
BEN REASON is a founding partner of Live-work—winners of the prestigious Designweek 'Design Team of the Year' award in 2014. As director of the London studio he continues to pioneer the discipline and is a visiting tutor at the Royal College of Art, London.
LAVRANS LØVLIE is a founding partner and Director of Livework. His work includes projects with the BBC, Sony, Orange, VW, several of the largest hospitals in Norway and the United Nations. He has taught at universities across Europe and is a board member of the Norwegian Design Council.
MELVIN BRAND FLU is a partner and the Director of Strategy and Business Design at Livework. He has over 25 years of experience working as a business and strategy consultant.
See More