Advanced Nutrition and Dietetics in Nutrition Support
ISBN: 978-1-118-99385-9
440 pages
March 2018, Wiley-Blackwell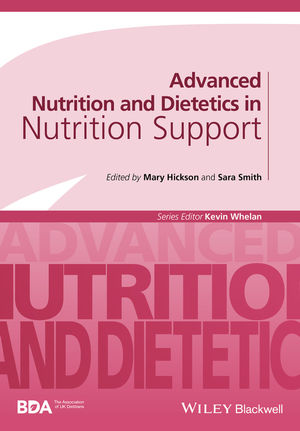 Written in conjunction with the British Dietetic Association, Advanced Nutrition and Dietetics in Nutrition Support provides a thorough and critical review of the fundamental literature in nutrition support.
Extensively evidence-based and internationally relevant, it discusses undernutrition, nutritional screening, assessment and interventions, as well as key clinical conditions likely to require nutrition support, and the appropriate care of these.
Clinically oriented and written specifically for nutritionists and dietitians, Advanced Nutrition and Dietetics in Nutrition Support is the ideal reference for all those managing malnutrition and undernutrition in patients.
See More
About the Editors

Mary Hickson is Professor of Dietetics at the University of Plymouth, UK.
Sara Smith is Senior Lecturer in Dietetics at Queen Margaret University, UK.
About the Series Editor

Kevin Whelan is Professor of Dietetics in the Division of Diabetes and Nutritional Sciences, King's College London, UK.
See More
More in this series