E-book
Get Rich with Dividends: A Proven System for Earning Double-Digit Returns, 2nd Edition
ISBN: 978-1-118-99414-6
240 pages
February 2015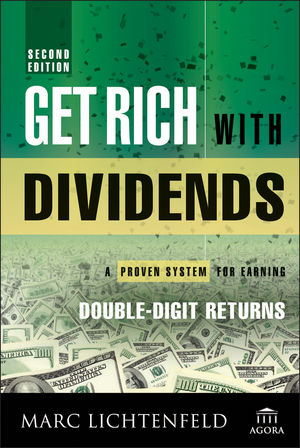 2016 Book of the Year award winner by the Institute for Financial Literacy


"Set it and forget it" investing, with less risk and higher returns
Get Rich with Dividends is the bestselling dividend-investing book that shows investors how to achieve double-digit returns using a time-tested conservative strategy. Written by a nineteen-year veteran of the equity markets, this invaluable guide shows you how to set up your investments for minimal maintenance and higher returns, so you can accumulate wealth while you focus on the things that matter. Using the author's proprietary 10-11-12 system, you'll learn how to generate the income you need on a quarterly or even monthly basis. You'll discover the keys to identifying stocks that will return twelve percent or more every year, and how to structure your investments for greater security and financial well being. This method is so easy to use, you'll want to teach it to your children early to set them up for financial independence and help them avoid the problems that plagued many investors over the past decade.
Dividends are responsible for 44 percent of the S&P 500's returns over the last eighty years. They represent an excellent opportunity today, especially for investors who have been burned in recent meltdowns and are desperate for sensible and less risky ways to make their money grow. This book describes a framework that allows investors to reap higher returns with a low-to-no maintenance plan.
Set up an investment system that requires little to no maintenance
Achieve double-digit average annualized returns over the long term
Focus on other things while your money works for you
Increase returns even with below-average growth in share price
Market risk is high and interest rates are low, making it a perfect time to get started on a more sensible wealth generation strategy. With expert guidance toward finding and investing in these unique but conservative and proven stocks, Get Rich with Dividends is the only book on dividend investing you'll ever need.
See More
Preface xi
Chapter 1 Why Dividend Stocks? 1
"Y'all Must've Forgot" 4
Marc Lichtenfeld's Authentic Italian Trattoria 7
The Numbers 9
Keeping Up with Inflation 12
The 10–11–12 System 13
Summary 15
Notes 15
Chapter 2 What Is a Perpetual Dividend Raiser? 17
Dividend Aristocrats 18
The Index 19
The Champions 21
Junior Aristocrats 23
Survivorship 26
Summary 27
Chapter 3 Past Performance Is No Guarantee of Future Results, but It's Pretty Darn Close 29
Performance of Perpetual Dividend Raisers 32
How Do Bonds Compare? 47
Are You an Investor from Lake Wobegon? 50
Summary 54
Notes 54
Chapter 4 Why Companies Raise Dividends 57
Buybacks versus Dividends 58
Management Speaks 62
Attracting the Right Shareholders 65
Signals to the Market 69
Summary 70
Notes 71
Chapter 5 Get Rich with Boring Dividend Stocks (Snooze Your Way to Millions) 73
How Much Do You Want to Make? 73
Summary 85
Note 85
Chapter 6 Get Higher Yields (and Maybe Some Tax Benefits) 87
Buying $1 in Assets for $0.90 87
MLPs 94
REITs 96
BDCs 97
You Don't Have to Play Mahjong with Mrs. Zuckerberg 99
Preferred Stocks 101
Summary 103
Chapter 7 What You Need to Know to Set Up a Portfolio 105
The Oxford Income Letter Portfolio—An Example 107
Setting Up the Portfolio 110
Yields 114
Payout Ratio 116
Dividend Growth Rate 121
Special Dividends 125
Summary 128
Note 128
Chapter 8 The 10–11–12 System 129
Yield 129
Dividend Growth 130
Payout Ratio 131
Formula 131
Numbers 143
When to Sell 150
Summary 153
Chapter 9 DRIPs and Direct Purchase Plans 155
Summary 160
Chapter 10 Using Options to Turbocharge Your Returns 163
Covered Calls: The Espresso of Income Investing 164
Option Prices 167
Volatility: An Option Seller's Best Friend 168
Time Is on Your Side 169
Who Should Sell Covered Calls? 170
20% Annual Returns 171
Selling Puts 175
Summary 177
Chapter 11 Foreign Stocks 179
One Lump or Two? 180
Lumpy Perpetual Dividend Raisers? 182
Other Risks 184
Summary 186
Chapter 12 Taxes 187
Foreign Taxes 188
Tax-Deferred Strategies 189
Tax Law Changes 191
Summary 192
Note 192
Conclusion The End of the Book, the Beginning of Your Future 193
Glossary 197
About the Author 201
Acknowledgments 203
Index 205
See More
MARC LICHTENFELD is the Chief Income Strategist of the Oxford Club and Editor of the Oxford Income Letter where he runs the Instant Income, Compound Income, and Retirement Catch-Up/High Yield Portfolios. Marc is also the founder and editor of Dividend Multiplier, the Oxford Systems Trader, and Lightning Trend Trader. A featured speaker at investment conferences, he has spoken about dividend investing at meetings all over the world. Marc is often featured on national media. He appears regularly on CNBC, and his work has appeared on WSJ.com, Marketwatch, and U.S. News & World Report among others. Marc is also the only published financial analyst to ring announce world championship boxing and mixed martial arts on HBO, Showtime, and ESPN.
See More