E-book
A Companion to Ancient Education
ISBN: 978-1-118-99741-3
520 pages
June 2015, Wiley-Blackwell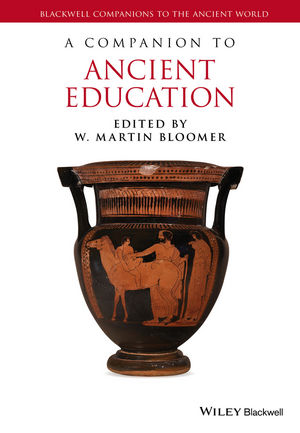 A Companion to Ancient Education presents a series of essays from leading specialists in the field that represent the most up-to-date scholarship relating to the rise and spread of educational practices and theories in the ancient Greek and Roman worlds.
Reflects the latest research findings and presents new historical syntheses of the rise, spread, and purposes of ancient education in ancient Greece and Rome
Offers comprehensive coverage of the main periods, crises, and developments of ancient education along with historical sketches of various educational methods and the diffusion of education throughout the ancient world
Covers both liberal and illiberal (non-elite) education during antiquity
Addresses the material practice and material realities of education, and the primary thinkers during antiquity through to late antiquity
See More
Notes on Contributors viii
Introduction 1
W. Martin Bloomer
PART I Literary and Moral Education in Archaic and Classical Greece 5
1 Origins and Relations to the Near East 7
Mark Griffith
2 The Earliest Greek Systems of Education 26
Mark Griffith
PART II Accounts of Systems 61
3 Sophistic Method and Practice 63
David Wolfsdorf
4 Socrates as Educator 77
David K. O'Connor
5 Spartan Education 90
Anton Powell
6 Athens 112
David M. Pritchard
7 Hellenistic and Roman Philosophy 123
Gretchen Reydams?-Schils
PART III The Spread and Development of Greek Schooling in the Hellenistic Era 135
8 Learning to Read and Write 137
William A. Johnson
9 School Structures, Apparatus, and Materials 149
Raffaella Cribiore
10 The Progymnasmata and Progymnasmatic Theory in Imperial Greek Education 160
Robert J. Penella
11 The Ephebeia in the Hellenistic Period 172
Nigel M. Kennell
12 Corporal Punishment in the Ancient School 184
W. Martin Bloomer
PART IV The Roman Transformation 199
13 Etruscan and Italic Literacy and the Case of Rome 201
Daniele F. Maras
14 Schools, Teachers, and Patrons in Mid?-Republican Rome 226
Enrica Sciarrino
15 The Education of the Ciceros 240
Susan Treggiari
16 Late Antiquity and the Transmission of Educational Ideals and Methods: The Greek World 252
Elzbieta Szabat
17 Late Antiquity and the Transmission of Educational Ideals and Methods: The Western Empire 267
Ilaria L. E. Ramelli
PART V Theories and Themes of Education 279
18 The Persistence of Ancient Education 281
Robin Barrow
19 The Education of Women in Ancient Rome 292
Emily A. Hemelrijk
20 The Education of Women in Ancient Greece 305
Aleksander Wolicki
21 Isocrates 321
James R. Muir
22 Plutarch 335
Sophia A. Xenophontos
23 Quintilian on Education 347
W. Martin Bloomer
24 Challenges to Classical Education in Late Antiquity: The Case of Augustine of Hippo 358
Hildegund Müller
PART VI Non?-Literary and Non?-Elite Education 373
25 Education in the Visual Arts 375
J. J. Pollitt
26 Mathematics Education 387
Nathan Sidoli
27 Musical Education in Greece and Rome 401
Stefan Hagel and Tosca Lynch
28 Medicine 413
Herbert Bannert
29 Sport and Education in Ancient Greece and Rome 430
Sarah C. Murray
30 Roman Legal Education 444
Andrew M. Riggsby
31 Toys and Games 452
Leslie J. Shumka
32 Slaves 464
Kelly L. Wrenhaven
33 Masters and Apprentices 474
Christian Laes
34 Military Training 483
Preston Bannard
Index 496
See More
W. Martin Bloomer is Professor of Classics and Director of the Ph.D. Program in Literature at the University of Notre Dame. His publications include Valerius Maximus and the Rhetoric of the New Nobility (1993), Latinity and Literary Society at Rome (1997), The Contest of Language (2005), and The School of Rome (2011).
See More
More in this series