Retrofitting Cities for Tomorrow's World
ISBN: 978-1-119-00721-0
288 pages
November 2017, Wiley-Blackwell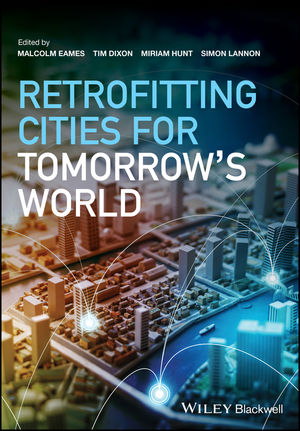 Retrofitting Cities for Tomorrow's World highlights some of the innovative and diverse ways of imagining and re-imagining urban retrofit perspectives, set in the context of 'futures-based' thinking. It explores how to determine the best way to plan and co-ordinate a more sustainable urban future by 2050 through urban retrofitting approaches to both residential and commercial property; how cities need to 'govern' for urban retrofit; and specifically, how future urban transitions and pathways can be managed, modelled and navigated.

The book is an invaluable source for academic researchers as well as policy advisors and consultants.
See More
Table of Contents
List of Contributors
Biographies
Foreword
Preface
1 Introduction
2 Community housing retrofit in the UK and the civics of energy consumption
3 'City-wide or city-blind'? An analysis of retrofit practices in the UK commercial property sector
4 Performance Gap in "Deep" Retrofit of Housing: Issues at the Design and Construction Interface
5 Transforming the commercial property market in Australians cities: Contemporary practices and the future potential in green roof retrofit
6 Modelling residential retrofit: Insights on the effect of regional characteristics for the Cardiff City Region
7 Weatherproofing urban social housing for a changing climate through retrofitting: A holistic approach
8 What is hindering adaptation to climate change in English suburbs, and what would help facilitate action?
9 The Value of Foresight and Scenarios in Engineering Liveable Future Cities
10 Urban sustainability transition: retrofitting the city
11 Presenting Futures: London 2062
12 Framing New Retrofit Models for Regenerating Australia's Fast Growing Cities
13 City-regional futures in context: Insights from the Retrofit 2050 project
14 National Policies for Local Urban Sustainability: A New Governance Approach?
15 Conclusions and Reflections: Retrofitting Cities for Tomorrow's World
Index
See More
"Cities are hotbeds of innovation, but their layouts, infrastructures and buildings are simultaneously prone to socio-technical lock-in. This book squarely confronts the challenges of overcoming urban obduracy while retaining the sense of place that makes each city unique. Retrofitting Cities for Tomorrow's World brings together leading thinkers to explore the theoretical and practical understanding of the systems innovation required for a global shift to sustainability of the built environment by mid-century".

Professor Steve Rayner,
James Martin Professor of Science & Civilization, Co-Director Oxford Programme for the Future of Cities

"Achieving a good quality of life depends in large part on ensuring a good future for our cities. The world's cities comprise complex urban systems that are shaped by how we live, work and move. We strive to manage current pressures and challenges, but it is clear that we must recognize and understand how different drivers of change impact in the long term. This collection offers innovative ways to imagine the city through urban retrofitting. Written by some of the leading experts in their fields, the book makes a stirring contribution for us to think through and manage a more sustainable urban future".

Professor Mark Tewdwr-Jones, Director, Newcastle City Futures, Newcastle University

"This publication represents one of the most comprehensive guides to date on the multi-faceted process of retrofitting the city. Unlike some other studies it makes a herculean effort to examine how different systems and approaches within the city can become more fundamentally aligned to achieve the best possible results for a place, ranging from built environment and technical approaches to issues of governance, scale and culture. Focused on 2050, the date when 70% of the planet will live in a city, this is a critical and ultimately practical manual for anyone seriously interested in improving the human-urban interface and ensuring that the cities that most of us will be consigned to into the future will remain not just habitable, but places where we can enjoy ever increasing quality of life. As we head into an age of highly mobile knowledge and talent, this sense of local liveability will be a decisive economic factor for any city".

Chris Murray, Director, Core Cities UK

"This book makes a significant contribution towards tackling the challenge of how to shape a better world. The authors show how we can both imagine and deliberately design our way towards that better future. Inclusive urban retrofit agendas, improved modelling and decision support tools, enhanced institutional capacity, planning and governance – all will be needed. The experience of the C40 cities provides compelling evidence that this is possible".

Chris Jofeh, Global Buildings Retrofit Leader, Arup

"If we are to make cities resilient, sustainable and liveable in this and the next century, we have to work creatively with what we have, and think imaginatively about the future. This book identifies the challenges, and illustrates innovative approaches to retrofitting in cities at all scales, from the house and the neighbourhood to the city level. It illustrates the imperative of 'futures thinking', of good leadership and governance, and is essential reading for all professionals and communities involved in planning, developing and rebuilding the urban fabric, form and systems".
Professor Rachel Cooper OBE, Distinguished Professor: Design Management and Policy,Lancaster University

"This book offers a tantalising sample of recent academic research into the range of technical, legislative, organisational, economic and cultural challenges of retrofitting our existing cities so that they can play a vital part in reducing our impact on the planet whilst increasing their capacity to adapt to an uncertain future. In taking a genuinely holistic approach, the range of topics covered is extensive with discussion ranging from broad theoretical perspective to detailed individual case study examples".

Professor Bill Gething, Professor of Architecture, University of West of England

"An impressive work that catalogues the complex challenges of city scale retrofit using informative case studies from around the world. The book provides useful analysis of the successes and failures of a range of retrofit initiatives, from technology specific projects, to holistic regionally focused visions. The lessons learned will give valuable food for thought for sustainability policy makers, financiers, practitioners and customers, helping ongoing efforts to bridge the "performance gap" between policy aspiration and implementation at scale".

Gareth Harcombe, Energy and Sustainability Manager, Cardiff City Council

"Retrofit 2050 is very well timed as a publication highlighting critical issues and learnings from key research around the world – it is evidence based and explores pathways for the future of cities and their impacts. Urban retrofit requires innovative approaches and futures-based thinking if we are to make cities sustainable while anticipating disruptions that technologies will bring and which will require social change, planning, design and policy innovations".

Scientia Professor Deo Prasad AO, CEO: CRC for Low Carbon Living (Australian Innovation Hub for Sustainable Built Environments)

"A critical requirement in ensuring that the urban built environment continues to meet the needs of its occupants is effective and affordable refurbishment at a city scale. This innovative and informative publication includes a portfolio of case studies that are brought to life with evidence-based opinion and data. Collectively these highlight the need for an integrated regulatory and economic landscape which will stimulate a collaborative approach to delivering successful and sustainable refurbishment for the future".

Dr Deborah Pullen MBE, Group Research Director, Building Research Establishment (BRE)

"Climate change poses great challenges for cities; their future economy and liveability will depend on negotiating the transformation of existing urban infrastructure, to overcome locked-in dependencies on carbon-based energy and historical patterns of weather that no longer hold. Understanding those challenges and how they can be overcome, is now a critical conversation in city governance worldwide. The most difficult part of those conversations is surely the transformation – the retrofit – of the existing built environment, because of the investment (in resources, time and knowledge) necessary to realign physical and technical infrastructure for new conditions outside their original design intent. It is also difficult because a city is a living social entity and its form is closely aligned to the interests, expectations and visions of its inhabitants (and the people and institutions in the regions beyond its boundary. It has become evident that the way forward has to begin with understanding the city as a physical-ecological-social-cultural system, with action requiring multidisciplinary collaboration and public engagement, and transformed visions of 'the future city'. This is an important book for its analysis of the issues and its critical reviews of various programs and models of transformation; overall it makes a strong case for embracing 'retrofitting cities' as a socially and economically urgent domain for innovation."

Professor Chris Ryan, Professor of Urban Eco-Innovation, Director, Victorian Eco-Innovation Lab (VEIL), University of Melbourne



See More